Hard of Hearing Phone Amplicomms PowerTel M7510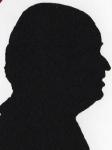 There are two companies I think of who design specifically for the hard of hearing. In fact this is often the older person who not only has hearing difficulties but also sight problems, so it's not only a phone to let you know someone's calling but one so you can hear what they are saying.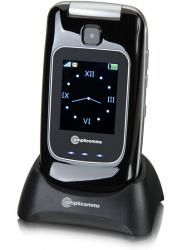 click image to enlarge
The PowerTel M7510 is a flip phone so in your pocket it is 10x5.5x2cm and weighs only 108 grams, open it and the 10cm length becomes 19cm.
The viewable screen is 5x3.5cm which those into the imperial diagonal measurement will call 2.5inches. It is capable of displaying nine lines of text.
When phones like this first came out they were exactly that – phones - now they have a camera can play video and even have a sound recorder function. However this is predominately a phone for the hard of hearing with some extra features.
Unlike most modern SmartPhones this does not have a touch screen so everything is menu driven with OK and Back are the two options wherever you are.
While there is a joystick control once you know the 9 sub folders you can press a key to quickly move to that number.
Messages
Phonebook
Call Centre
SOS
Settings
Organizer
Services
Multimedia
File Manager
Each has sub sections I have space only to delve into three here so I start with SOS which may be something we should all set in case of an accident so worth setting some emergency numbers.
The next is Organizer which has basic features like Calendar, Calculator, Tasks, Alarm and Stopwatch.
Finally Settings which is slightly different from most phones in that option 1 Tone allows Normal Frequency, Low Frequency and High Frequency. While most hard of hearing is specific high frequency such as female voices are often hardest to hear and this can improve your hearing of these by this simple choice. 2 is Boost setting which just gives extra oomph. 3 Direct Numbers allows you to change your M1 to M3 choices. 4 Profiles, 5 Call Settings, 6 Dual SIM settings which allows you to choose one SIM for say calls and the other for Data, alternately one SIM for family and the other for friends or work. 7 Phone Settings, 8 Security Settings, 9 Bluetooth something I have previously not seen on such phones and finally 10 Restore Defaults for when you muck everything up.
The keypad has 19 keys plus the ubiquitous five position joystick control. Like most of these phones you turn on or off via the red end call button held down for a few seconds. Above this the back button, to the left of these the joystick controls and even further left the OK key and below this the green answer call button.
The last 15 keys are in five rows of three, the first is M1, M2, M3 which you can assign quick dial numbers to, and finally the numeric keypad with large clear easy to read numerals.
The left side has charging point and headphone socket, the right side has volume rocker. When closed the face has a 3.6x2.6 screen that shows time, day date and other information.
For those who want numbers the ring volume can be up to 90db and call volume up to 35db.
At the time of publication the Amplicomms PowerTel M7510 is available from Amazon for £84.99 with free delivery.