Gillette Fusion with Stand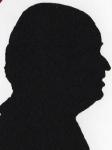 Even if like me your daily shave is with an electric or battery razor there is nothing like a wet shave and even though a lot of recent electronic offerings are 'wet or dry' the scrape – for want of a better word – of a wet razor is a pleasure. My razor of choice for such a task uses the five blades on offer from Gillette here an offering that will make a perfect gift at a low price.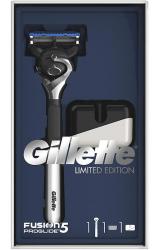 click image to enlarge
The Fusion offerings have five blades inline, and for those places like just under your nose another single blade on the other side of the shaving head.
To give this gift pack its full name it's Gillette (Limited Edition) Fusion 5 ProGlide.
In the box is the razor 15cm long from base to tip and a stand.
5.5cm down from the head is a rubberised area of just less than 4cm for your thumb with the 6cm below that in chrome. The rubberised area is flat on one side and ribbed curved on the other it sits very nicely in your hand and is very unlikely to slip.
It comes with the five blade unit already fitted and in my tests with an earlier unit I found I get at least twenty shaves with it before it starts to pull.
The stand is 4.5x4.5x3cm and is weighted, the base of the razor slips into a hole in the top the base has four small silicon rubber feet so it sits firmly on whatever it is placed.
I remember when these five plus one blades first came out and I was unaware of the single blade on the back of the unit until it was pointed out to me.
I think it was at that event that a Gillette person cut themselves on a razor which was part of a history of their razors display we all thought it was funny but early open blade razors were dangerous in comparison to the safety blades in these current offerings.
As this set has a retail price of £16 I can see it being a popular low priced gift that will get used and perhaps others like me will still appreciate the scrape of a real blade on the skin which for me anyway is the best way to get at the soft hair under the chin that a lot of electric razors just flatten.
https://www.sainsburys.co.uk/webapp/wcs/stores/servlet/ProductDisplay?langId=44&productId=1233396&storeId=10151