Bookshelf Speakers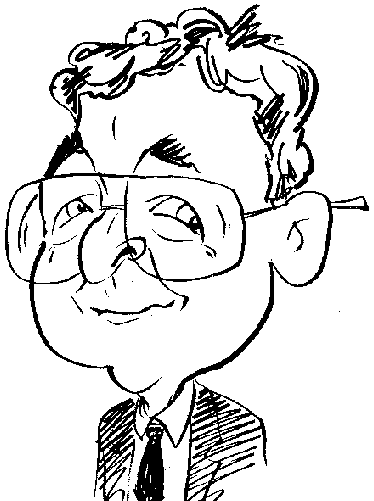 Providing dual connectivity options is a speaker system from our old friends at Edifier.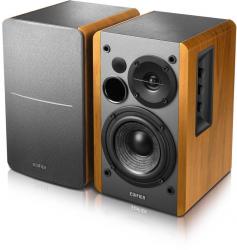 click image to enlarge
Since its formation in 1996, Edifier has been busy developing an impressive range of speaker products designed for specific purposes. These different types of speaker generally fit into categories such as Bluetooth, Portable, 2.0 Bookshelf, 2:1 System or 5:1 System. Recently I have had the opportunity to check out the company's Studio 1280T model. This speaker product is part of the company's 2.0 Bookshelf range of offerings.
The Studio 1280T product is built around a pair of box-shaped speakers, acting as the active and passive elements of an audio system controllable from a supplied remote unit. Both speaker units have dimensions of 146 x 234 x 196mm (W x H x D). They feature wood-style side panels and a detachable grey cloth covered front panel. A raised silver Edifier logo along with a silver strip running across the middle of the front panel add a touch of decoration and style to the appearance of these speakers.
As you might expect, the active speaker unit has all the main connection and adjustment features available with this speaker system. Concealed behind the active speaker's front panel is an infrared sensor for receiving signals from the remote control unit. A permanently attached power lead, with 3-pin plug, emerges from the rear of this speaker unit and sits alongside an off/on power toggle switch. Also located on the rear of this speaker unit is an arrangement of colour coded left and right audio connection sockets designated for use by a computer or AUX device plus bare wire style connection options for linking to the left or passive speaker. Appropriate leads are supplied for the different types of connection.
When viewed from the front, the active speaker's right side features a recessed panel. This panel contains three knobs for adjusting the treble, bass and master volume levels. There is also a small LED light that indicates when power is available.
By comparison the passive speaker is almost denuded of available options. Located on the rear of this speaker, near its base, is the bare wire type connection for linking this speaker to its active brethren. Instruction as to how to carry out the linking, and which strand of the connecting lead fits into which hole, is provided in the User Manual booklet that accompanies this speaker system.
Built into both speakers are subwoofer/bass and treble/tweeter units. Delivering the bass audio is a 4-inch driver. There is also a calibrated flared bass reflect port. Providing the treble is a 13mm silk domed tweeter. Each speaker has a power output of 21W which I found fine for most casual listening occasions.
With the availability of dual RCA input sockets, this 1280T speaker system can be connected to two separate audio sources. In order to achieve this Edifier has included in the package a dual RCA to dual RCA lead and a dual RCA to 3.5mm jack plug lead. Also included is the lead that links the two speaker units together using the bare wire style connectors.
You do need to realise that having two connected will result in the speaker delivering both audio streams simultaneously. This is probably not what you would want unless you were deliberately trying to annoy somebody. In order to avoid this type of situation you will need to either shut down one of the source devices or reduce its output volume level to zero.
Along with the various controls mounted on the side of the active speaker, you do have a second method of control with the remote control unit that forms part of this kit. While the numerous of buttons on the remote control matches the number of control knobs, the functionality delivered is different. Unlike the control knobs which supply treble, bass and volume level adjustments, the remote control buttons allow you to raise or lower the volume level plus mute the audio when silence is required.
The Studio 1280T speaker system delivers reasonable audio for a home office or even a living room environment. Currently this product is listed on Amazon.co.uk priced at £88.79.
http://www.edifier.com/int/en/speakers/studio-1280t-2.0-powered-bookshelf