Casual Listening Speaker System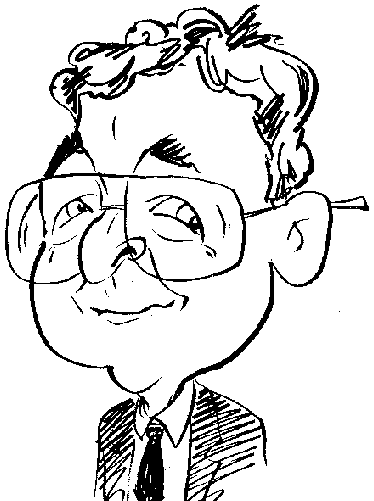 Review controls
Working from home, I like to listen to music when reviewing products. So I am always keen to review speaker systems.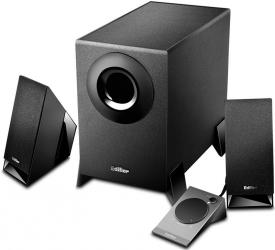 click image to enlarge
Adding to Edifier's extensive range of speaker units is the M1360 product. This audio delivering device is a 2:1 + 1 unit that is made up of a subwoofer, a pair of satellite speakers and a wired controller. All the various hardware elements are decked out in a mixture of matte and lacquered black sections. A small multi-lingual User Manual is included in the box with the product to help with the initial set up procedure.
As the central component of this speaker system, the subwoofer is awarded the honour of being described as a wooden unit of the MDF (medium density fibreboard) variety. The subwoofer is mounted on four stilt-like stubby legs. This create a space beneath the unit for the downward facing subwoofer to add to the output to the front bass reflect port thus giving an output of 4.5 W rounded output from the subwoofer.
With dimensions of 230 x 240 x 130 mm (H x D x W), the subwoofer conceals its various connections at its rear. There are permanently attached leads for mains power (162 cm) and the wired controller (126 cm) plus a 3.5 mm jack socket for attaching the linked satellite speakers via their own lead that gives you 148 cm of positioning play. The rear of the subwoofer box also contains an on/off flip switch.
Both the satellite speakers, which have a strong plastic feel to them plus a material front face, and the plastic wired control, have a wedged shaped appearance. However, while the satellite speakers take on an upright position to face the world, the wired controller adopts a more reclined stance as if to show off its front face to its audience. This front face features a silver coloured plate with a circular black volume controller and a small, black mute button. A tiny green light, poisoned at 7 o'clock in relation to the mute button, glows to indicate when audio output is activated and goes out when the mute feature is applied.
On the rear of the wired controller is a 3.5 mm jack socket for when a set of headphones is called for when you require private listening. Attaching a set of headphones will have the effect of turning off the audio output to the subwoofer and satellite speakers. It will also negate the functionality of the mute button. Audio will be fed to the headphones whether the mute button is on or off. The volume control will have no affect on the level of audio delivered to the headphones so you will need to use this facility on the source device.
Setting up this kit is straightforward and quick. You just need to make the necessary and relevant connections as you link to a power and audio sources plus attach the satellite speakers and wired controller. There isn't any need to work out which satellite speaker is for the left or the right channel as they both seem to work fine in either position. This speaker system can be linked to different audio sources, although not at the same time, as long as the source possesses a 3.5 mm jack socket for output. Currently I am listening to music stored on a small clip-on SanDisk Sansa MP3 music player because it just happens to be convenient. I could have just as easily chosen from any number of appropriate devices to deliver the audio output to this speaker set up.
With its plug and play capability, the Edifier M1360 delivers a reasonable quality of audio output. It may not satisfy a Hi-Fi enthusiast but for a casual listener who wants to enjoy their favourite music for under £40 it would be fine. I have seen this product listed at £32.52 on Amazon.co.uk.
Edifier M1360 Speaker System

| Power output | R/L RMS 2 W x 2 SW RMS 4.5 W |
| --- | --- |
| Signal to noise ratio | >85dBA |
| Distortion | >0.5% |
| Input sensitivity | R/L 150Hz +50mV SW 250mV +50mV |
| Frequency response | R/L 150Hz-20kHz SW 20Hz-170Hz |
| Bass unit | 4 inch |
| Tweeter unit | 50 x 90 mm |