Edifer CineSound B7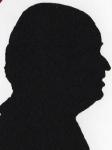 How do you pack a sub-woofer and a sound bar together in one box, with difficulty is my answer, perhaps they are put together to make sure they stay together, both need mains power but there is no physical link between the two items.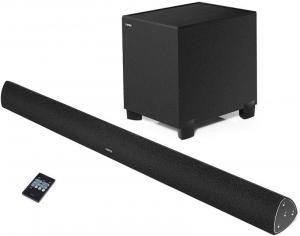 click image to enlarge
The sound bar is triangular in shape with the front edge sloping backwards it is one metre long and each side is 8cm. The sub-woofer is 28.5x24.5x33cm and it can be placed anywhere within reason, in my tests with TV sound most will be surprised how much base is in music that is not normally heard from things like theme tunes and incidental music, certainly they sound so much different than they do without external an sound bar and sub-woofer.
Of course unless you spend all your time watching TV – and even if you do you will probably not admit it – this set can do more than just connect to the TV.
Apart from the two mains leads you also get an optical cable and two sets of optical cables, a remote control and a multi-language User Guide which has the first 12 pages in English.
Should you wish to wall mount the sound bar a bracket is supplied.
The sub-woofer once turns on will connect to the sound bar and enhance the sound there is a manual bass adjustment which can adjust how much you annoy the neighbours by if you play music with an already heavy bass, there is also a manual on/off rocker button.
There are a total of 15 well marked buttons on the 8.5x5x.5cm remote control that comes with the required watch type battery which will require line of sight to the sound bar.
Technically on first use you need to pair the sound bar and sub-woofer but as I was not the first reviewer for this unit it had already been paired.
On the back of the sound bar are optical, coaxial, line in and auxiliary inputs. On the right end of the sound bar are four buttons which can do most of what the remote control does for those times when the remote control has gone AWOL.
Up till now I have not even mentioned Bluetooth which most will use to play sound from a range of portable devices including of course your SmartPhone just to prove that even MP3 has more quality than you can normally hear.
The power output is 2x16watt treble, 2x19watt mid-range and a huge 75watt bass from the 8inch bass driver.
While I think it's crazy to make a box of the lop sided size required to ship these items in a single package it does mean they stay together which if they shipped separately they may not.
I tried all the modes mentioned apart from the Coaxial. The Bluetooth shows that even small SmartPhones can have a big voice, an MP3 player – remember them – can have a new future even when connected by a 3.5mm cable. However most will use such a device to get the standard naff TV sound up to something listenable especially for US movies when bass is enhanced – often too much – but you can control that to treble where it is always lacking so older people with their hearing range can follow dialog spoken by ladies and young children.
The Edifer CineSound B7 Soundbar is available at time of publication from Amazon for £222.64 with free delivery.