EGO Professional Cordless Hedge Trimmer HT6500E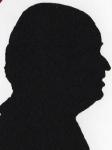 While a hedge trimmer is useful in all gardens that have hedges and small trees, having a professional unit such as this cordless offering from EGO might be a luxury, but for a gardener or landscape technician it is a tool that is an essential not a luxury.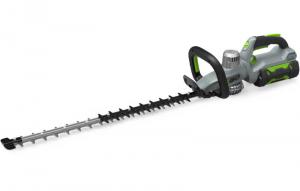 click image to enlarge
It is 114cm from the end of the cutter to the back of the unit. It is described as a 65cm unit that is the length of the cutter arm so it will go far deeper than all 'home' units I know. It will also cut far thicker branches; one such I lopped was 2.5cm thick.
This is a two handed unit not just because of its length but also because of safety, trying to just get a tall bit just out of my reach from the ground meant one hand had to let go to get that extra few centimetres and the unit immediately cuts out.
A professional will of course have more than one battery and swopping batteries is a job of just a few seconds. All EGO units use similar batteries so a professional will also have other devices which can all be charged by a single charger.
The battery clips in to the unit at the back just below the handle. The trigger arm has the trigger mounted on the inside of the top. Further forward is the motor and then the second trigger area which can be held in the other hand either on the top or either side so the trimmer can be used horizontally or in either vertical. Finally a 6cm blade guard before the 65cm blade.
The maximum distance between the cutting areas is 3cm but even to cut the 2.5cm example I did is several movements.
Anyone starting out will need one charger, at least one battery and then whatever devices they use, as stated EGO do a whole range of mowers, trimmers, chain saws and blowers see the link at the end. So initial costs will not only be the hedge trimmer here but battery (ies) and charger. But remember the battery fits all their devices and the charger can charge all the batteries.
A professional should or course have a whole range of safety equipment.
The battery as supplied to me was a 56v Lithium-Ion rated to last 2.0AH between charges as stated above it just slots into the base of the handle and has a solid click when engaged. The hedge trimmer is stated to last up to 160 minutes between charges.
The charger is 27x20x1cm and designed to be used vertically either free standing of fixed by screws (not supplied) to a wall. It comes with a 1.7metre hard wired mains lead.
The charger indicates the state of charge of the battery in 25% increments.
Unless you have a very large garden with a lot of hedges and woody scrubs then then is perhaps overkill but it is certainly a good quality unit and in my tests did everything that I asked and I certainly expected to have to get my long handled loppers to get through that 2.5cm branch.
The EGO Cordless Hedge Trimmer HT6500E is listed at £219 the lower specified unit the HT2500E is available for £139 with a kit of one battery and one battery charger for £80 extra.
http://egopowerplus.co.uk/products/hedge-trimmers/ht6500e-65cm-hedge-trimmer