Comfyballs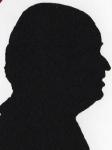 I am told there was a long struggle with authorities before this name could be listed as a trademark in the USA. However now this underwear brand has passed naming tests I put a pair through wearing tests to see if they do what they claim.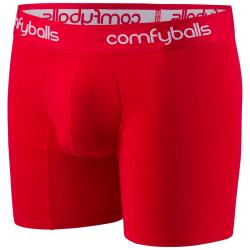 click image to enlarge
What claim you may say, well it's in the name that your balls will be comfy.
A few years ago I would have said that this article would only be on interest to men but I read that the vast proportion of male underwear is purchased by women and I assume not for their own use.
Trunks, Y-Fronts – remember them – briefs are just three types of underwear, these are described as long boxers.
Looking at the label in the back – unusually these days on the inside – it says designed in Norway and made in Turkey, 92% cotton and 8% Lycra.
I feel sizing is an issue these are described as XL in the USA and 2XL in Europe which is stated to be 38inches. It's a long while since my waist was as little as 38inches but these fit fine.
So what is the difference between these long boxers and other makes, simply there is an added pouch in the area between the legs so no longer are your balls squeezed but are able to rest in a more natural position.
The effect dependant on trousers or jeans worn is that things may be a little prominent than before.
From the crotch to the top of the waistband is 28cm and the leg continues down for another 12cm. The waistband is 94cm upstretched and if your waist was that size then this pair would fall down as the elastic would not support you.
The pair sent to me was a bright orange colour with a black elastic waistband emblazoned is three places around the waistband with 'comfyballs'.
The central pouch area 23cm deep and 13cm wide so should accommodate every size of 'meat and two veg' in a relaxed state.
I tested these through wear and wash cycles over a three week period during the hottest part of the year and that area never had any sweat problems.
Before I move on to the one drawback of these let's get over the Lycra bit it has obviously been worked out that 8% will just give added support without being anywhere near the skin tight offerings work by athletes or cyclists.
Now a problem this could occur at the urinal as with added leg length your member cannot be pushed out of the base and of course the central pouch area has no vent so the only course open is to lower the waistband which will work but can be a little fiddly to do.
On the days I wore these my balls were comfy and on the days they were in the wash and whatever other type of underwear I wore was less comfortable.
Those who go 'commando' will experience a similar feeling but here no shock for those in A&E should you need their services as everything is still packaged just more comfortably packaged.
The price from the link below is £24.99 post free and you can get 20% off when you buy three or more pairs. So that if you buy three that reduces the cost to a tad under £20 a pair.