Vodafone Headphones and Speaker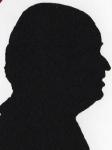 While I get to see a range of new phones from Vodafone here are something that I have previous not seen. First a very nice small pair of on ear headphones ideal for traveling with, second a small cube speaker for those occasions when you share your sounds.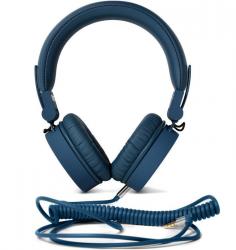 click image to enlarge
Caps Headphones
These headphones are small, with the phones parallel there is only 13cm between them, at the same position and no side extension it is only 17cm to the base of the head padding.
Fresh 'N Rebel seems to be the name for these matt blue on ear headphones. There is close to 1.5cm of padding on each ear and nearly 1cm on top of the head.
There is 4cm of expansion for each ear, for my normal size head with no expansion they leave around 1/3 of my ear exposed, so unlike a lot of headphones they could also suit a child. The main selling point ascetically is their lack of size so ideal to travel with.
They come with a 1.3metre lead which includes a 17cm coiled area that easily expands to another 50cm.
I have a set of standard tests that I have gone into detail many times and indeed I have an MP3 player with files covering all Genres of music and speech including all styles.
For me the sound is good with enough bass and probably only those who like extreme amounts of bass will be the only unhappy ones.
There is a microphone and remote 15cm down from where the wired control exits the left ear and I also tested it while out and about with the current Vodafone phone I am testing.
The Caps Headphones are available from the link below for £30 with free delivery; there is a choice of three colours.
http://shop.vodafone.co.uk/shop/mobile-phone/accessories/sku97088/sku97089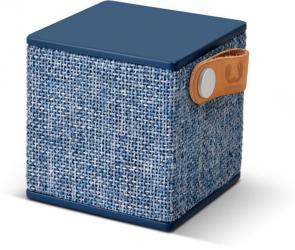 click image to enlarge
Rockbox Cube
This is a small cube speaker ideal for those times when out and about and you want to share your sounds. It is also from the Fresh 'N Rebel range and is the fabric edition.
It is a perfect cube at 6cm. The same matt blue colour top and bottom as with the headphones above the four sides are coated in a predominately blue fabric and only finger/keyring grip in light brown leather interrupts that.
The base has a raised rubber area in the same blue forming the edges and in the centre of the base is a simple on/off slider button. At the base of the back are two connections Micro USB and Aux input. Two 40cm leads are supplied a small 3.5mm to 3.5mm lead for the audio side and a 40cm Micro USB to USB lead for charging.
There is a small eight language manual that fits neatly into the base of the cubes plastic box along with both the cables.
I also tested this for sound quality with my MP3 player and also when out and about using the latest Vodafone phone as the Bluetooth source.
I was happy with the sounds that emerged and while I doubt many would want to listen to a concert on the cube it was fine for ad hoc listening. There are it seems a choice of three colours.
Rockbox Cube is available from the link below for £25.
http://shop.vodafone.co.uk/shop/mobile-phone/accessories/sku97084