Canon Pixma TS6050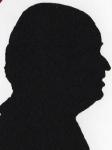 This is an inkjet All In One meaning it prints, scans and copies. It is a five ink offering with the pigment black cartridge being considerably larger. So it is Cyan, Magenta, Yellow and Black plus the second pigment black to get the five cartridges.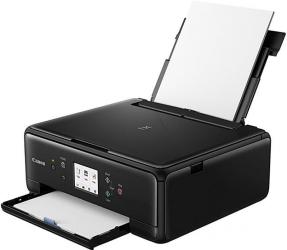 click image to enlarge
The Canon Pixma TS6050 measures 35x35x15cm with A4 paper in the small bottom tray. You would need a little more space on top to place things on the flatbed scanner and if you use the rear sit up tray a lot more space above. Some extra space - around another 12cm - for when A4 paper is printed to fully extend the output tray.
Paper is inserted in the bottom tray face down and in the rear tray face forward.
Standard printing will be close to the claims but remember this will be the fastest possible – draft – and while this is sharp and black and not at all grey as with printers of a few years ago better is possible.
One example I test is my large database 43 lines of test per page in three distinct fields using the who width but then printing 'four up' so that's four pages of this on a single A4 page and that comes through at 10PPM.
So while the claim is 15PPM I think 10PPM in normal especially four up.
Printing an A4 borderless photo on normal using plain paper takes around 45 seconds quite acceptable but to get pin point sharpness and gloss you need photo paper and best mode this takes around 100 seconds and is a superb thing.
A lot can be done from the unit itself without the PC being connected to it. Printing from SmartPhones or Tablets for example. You can also print from the Cloud or Templates.
There are lots of copy options including some that are quite advanced.
Scanning by default will be to .PDF and as an example I took a page from a newspaper and placed it on the flatbed with close spaced columns of print and scanned to the PC I then printed it and it was just as readable as the original with no bleed through as you used to get, no special options – although these are all available – just pressing the scan button.
It is also possible to scan to email for a much smaller image size.
The front of the unit has a 33x8cm flip up area that controls it with three large clearly marked buttons either side of the 6.5x4.5cm TFT display. The display shows three options Copy, Scan and Print touching any will bring up rafts of choices. Along the bottom of the display are four small icons Wi-Fi, Network, Settings and built in Help.
This is a USB or Wi-Fi unit and if you install everything it will take around 1.3GB of hard disk space on a PC while a DVD will be provided with a Quick Start Guide it will still want to check if later files are available. Around 800MB is the excellent my Image Garden software that will perfect anything you give it to work with.
The Canon Pixma TS6050 is available from Amazon for £82.96 supplied with 'setup inks'.