Braun Hair Clipper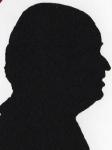 When you get to my age the bald look is in, not by choice but simply because hair stops growing on top, it makes up for this by growing extremely vigorously around the sides and out of most other orifices, so a Hair Clipper still has it uses.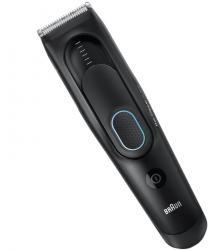 click image to enlarge
Of course for those who still have a full head of hair the fashion seems to be to shave or cut very short the sides and show a full head on top.
This set of clippers can be set to cut – using the short hair comb to any number – divisible by three - between 3 and 24mm and it remembers the last setting so it avoids any nasty chances of you inadvertently changing your style.
It is 18.5cm long, 4.5cm wide at the cutting end and 4cm deep at that same point. At the base it's as little as 3.5cm across and 2.5cm deep so it should sit comfortably in all but the very smallest hand.
There are internal batteries that should give 50 minutes of constant power before you need to think about a recharge.
If you remove the blue plastic comb then you can really get that closely groomed look.
There are just two controls an on/off button towards the base of the unit and higher up the comb adjustment.
The unit is washable to clean any residue but of course you should not fully immerse it in water.
Also in the box are a cleaning brush and a small bottle of oil to occasionally lubricate the clippers.
There is a multi-language booklet in the box that covers four different models; it has eight sides in English that should tell you all you need to know.
It is nice when something arrives ready to use however I did not test it for 50 minutes before attaching the special low power charging cable but I did tidy up the mess around my ears and down my neck so I could avoid a visit to my barbers not a while. As far as what else he finds to cut I am not sure but I await the day when I walk in and he demands a finder's fee.
For a few years now he has offered to do my eyebrows and ears. As an aside I cannot understand how hair grows vigorously there and not at all on top of my head.
Still having the hair clippers mean that I can stretch the length of time between my visits to him as the only reason I normally go is because the side areas look a mess well no more is that a requirement.
The Braun HairClipper HC5010 is available from the link below for £26.79 with free delivery.
http://www.amazon.co.uk/gp/product/B017LX1ZGG?ie=UTF8&tag=gadge0a-21&linkCode=as2&camp=1634