Archos SmartPhone 50e Helium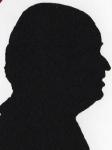 This is an Android 5.1.1 Phone that is thin and light but very smart in looks. Most recent phones have Quad Core Processors this is no exception, most recent phones have 4G again so does this, so what is unique perhaps it's what is called Fusion Storage.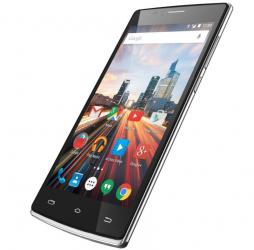 click image to enlarge
The 50e Helium from Archos measures 14.5x7x.5cm and weights147grams. The viewable screen is 11x6.2cm which gives the notional 5inch diagonal imperial measurement.
It has Dual Sim capability which means that those who have this as a business phone can also have their personal phone in the same case. It also allows those who prefer a different service for Data and Phone.
Unlike a lot of recent phones I have seen this has a removable battery which also means you have that little bit more security as both the Sims and any Micro SD Card (up to 32GB) are stored inside just in front of the battery which needs to be removed to insert and remove Sims and SD Card. The Battery is 2100mAh.
The Quad Core is 1.1 GHz. There is 1GB of RAM and 8GB of basic storage before you add any Micro SD Card.
Going round the outside you have the volume rocker on the right side with the on/off button below this. Both the base and left side are clear. The top has a 3.5mm headphone socket and the Micro USB port which is used for charging as in my tests it does not support OTG (On The Go) devices.
On first use you can – assuming you have a previous phone – restore your settings – but I prefer to setup as a new phone, it does take a little longer while you set up accounts and then the bits Archos add which is a number of Apps and games – some have in App purchases - but there are also old favourites like Angry Birds.
I found the internal speaker almost two loud for my taste and soon resorted to vibrate which will impact on battery life but I ran it for over two long days for emails and things like Bus Times etc. with a little Web searching on a single charge.
The rear has an 8MP camera mounted centre near the top with an adequate LED flash beside it. This camera is slightly proud of the dark blue case as it is thin it would not fit in flush but really you do not notice the slight protrusion. The face has a 5MP camera for Selfies and for those who use Skype etc.
It has excellent Wi-Fi as I used it around the home without any problems and it also has Bluetooth 4. As with most there is a stereo FM radio but of course this uses whatever earbuds or headphones you use for an aerial.
Both uPnP and DLNA are supported via video and media servers.
In the box is an OK set of earbuds a USB to micro USB cable and a 13amp plug front for those times when no other USB port is available. I found it took around 90 minutes for a full charge from 0%.
The one thing that the rather good manual did not tell me about was Fusion Storage.
The Archos 50e Helium is available (unlocked) from the link below for £122.15 with free delivery.
http://www.amazon.co.uk/gp/product/B012TCV8K2?ie=UTF8&tag=gadge0a-21&linkCode=as2&camp=1634