Acer Swift 3 Ultra Thin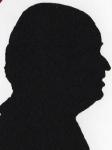 The Swift range was launched a year ago in Glasgow and I have previously looked at a different model from the same range. This is a rather smart looking Notebook with the screen capable of going back to 180 degrees.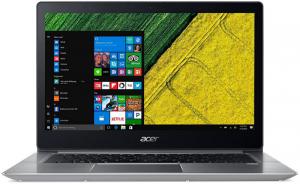 click image to enlarge
The Acer Swift 3 is an ultra-thin notebook measuring 33x23x1.5cm and weighing 1629 grams. The base has a 27x1cm strip of rubber and the two front corners a 3x1cm front to back strip to protect whatever you sit it on, this matters because the body is all metal.
Looking at the Acer site finds 21 different Swift 3 models with various memory and processor combinations.
The one I have has silver body an Intel i5 processor, 8GB of RAM and a 256GB SSD drive.
Going round the unit finds DC input, HDMI output, USB 'C', two USB3 and headphone socket on the left side. The front and back are clear. The right side has SD Card socket, USB2 two LED's and a Kensington Lock port.
The screen surround is shiny black with a webcam top centre above the screen.
There is an 84key keyboard with the alpha keys being full size. There is a clear 3cm strip on either side and behind the keyboard with a 10cm strip in front, the 10.5x8cm trackpad is mounted 10cm from the left and 13cm from the right. There is a 1.5x.5cm fingerprint reader to the right of the trackpad 3cm in from the right edge 1cm in front of the keyboard.
Bootup is 7 seconds and shutdown is 2 seconds from Desktop. I got seven hours of full screen streaming from a full battery, full recharge while on was 130 minutes. This is well within the claimed 'up to ten hours of use' claim on their website.
This unit came in with Windows 10 v1607 and a whole stream of failed updates so my first job was to restore and luckily it only went back to when v1607 was installed still the whole process including those updates that were failing to previously install and the update to v1703 took around four hours with numerous reboots, but you only need one eye on it while this is a work in progress.
The result a swift – no pun intended – Notebook which can now be updated when required.
The brushed metal gave a cool feel and if only the screen surround could have been a matt black it would not have shown finger marks, yes the screen is reflective so you need to keep it away from bright lights shining directly onto it.
The fingerprint reader gives you instant access without needing to enter a password.
This unit has a backlit keyboard which will stay on for around 40 seconds after the last key is pressed which is ideal in dimly lit areas.
The sound from the built in speakers was better than a lot of notebooks and there was plenty of it.
Overall a nice light and responsive unit that is equally at home in the office or at home and the '2x' Wi-Fi means faster downloads.
The Acer Swift 3 is available from Amazon for £679 including free delivery.