Acer Aspire A515-51033BQ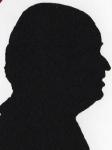 This is one of a range recently launched at Thorpe Park on what in some parts of the country was the hottest day of the year. While it was an event I was unable to make I have been kept up to date by the excellent Acer PR Company, here the first offering sent to me.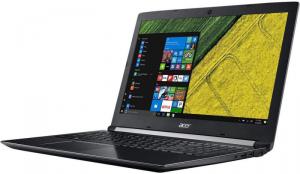 click image to enlarge
This laptop from Acer measures 37.5x24.5x1cm at the front and 2cm at the back, it weights 2304grams.
It has a grey back, black elsewhere apart from a matt very dark grey screen surround so less finger marks will show. The viewable screen is 34x19.5cm and is refreshingly matt so quite good in strong sunlight. The screen is 1920x1080 and has a notional diagonal imperial measurement of 15.6inches. There is a webcam built into the centre of the area above the screen.
The screen goes beyond 180 degrees to around 240 degrees. It has a 100 key keyboard with alpha keys being full size. For those who want a numeric keypad you are in luck but the keys are slightly smaller. There is a 2cm strip either side of the keyboard with a 2.5cm strip clear behind the keyboard. The 10.5x8cm trackpad is mounted 9cm from the left and 18cm from the right the 10.5cm area in front of the keyboard should protect you from RSI.
The speakers are underneath near the edges and give a reasonable sound both volume and quality wise. There are two rubber feet at the front and a single rubber strip at the back.
Bootup is a very acceptable six seconds and shutdown to a blank screen is two seconds.
The best I got battery wise is just over ten hours in moderate use and around six hours in heavy use.
It came with Windows 10 Home v1607 and after a few updates it offered the chance to upgrade to Windows 10 v1703 which went smoothly in around 150 minutes from starting the download to a working PC again I was able to continue using it during the download and checking part.
It comes with a Intel i3 CPU running at 2.4GHz. It has 8GB of DDR4 RAM and a 237GB hard drive.
While I found v1703 quite stable towards the end of my review I reverted to v1607 as I have heard some people find problems with 32bit Apps in v1703.
I have done the 1703 upgrade a total of four times on various PCs and not had any difficulties but as I have to wipe the hard disc at the end of a review anyway it's nice to know if the revert will work correctly.
This was a new PC when it came to me and I have used it extensively for just over two weeks with around half the time on v1607 before the upgrade, this created a Windows Old folder with the previous version and it was just on 10GB when you are happy you can with a little effort delete this. On this occasion I reverted to it in only five minutes, I was stunned how quick it was.
While it does not come with many extras software wise the Acer Care Centre has some useful information.
I enjoyed my test with this unit; I used it for most normal tasks and even forced myself to stream a video and some music. My one wish was that it had touch as Windows 10 was made for touch.
The Acer Aspire A515-51033BQ is available from Argos shops or online for £599.