5000mAh PowerBank and more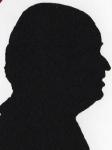 This small black box is a PowerBank to recharge all your USB devices, however it is also a digital clock and a temperature display, and for good measure an alarm clock and it is even stated to have a calendar so this is a true multi-functional device.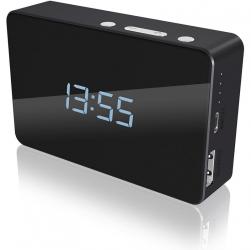 click image to enlarge
It is 8.5x5x2cm and it weighs 153grams.
Firstly as a charging device it has 5Vinput and 2.1A output for mobile devices – called fast charge – if you charge your SmartPhone from a computer port the fastest you are likely to charge at is 1A.
Within the 12 sides of this 14x9cm User Manual which covers ten languages three of the sides are in English.
The sides top and bottom of the PowerBank are matt black while the back and front are shiny black – which does tend to show finger marks - but as the normal clock display is in the central part of the display in 1.5cm numerals – white on black – you are unlikely to notice. The sides are metal with the front and back plastic.
The top of the unit has three buttons on/off, -&+ and set.
Setting up the device is reasonably easy and only likely to fool you if you mix year with day and date.
Once set the display can be turned off if not required but a press of the on/off button will show it again without the settings being lost.
The default display is six seconds time and two seconds temperature but a press of the set button can keep it just displaying time.
You need to press the + part of the -&+ rocker button when it will show a four number string for three seconds being month and day for example '2512' would be 'Happy Christmas' but that is one of the few days when most will know the date anyway.
The right side of the unit has the two USB sockets micro (input) and full size USB (output). A 75cm lead is supplied to allow you to charge your PowerBank either from a computer or a USB plug front.
This unit also has an alarm function and setting it is explained in the User Manual.
This unit is ideal for those on the move as it is very small and also will withstand the odd knock or three in a bag or purse, just remember to make sure that you have packed whatever type of lead your SmartPhone uses after all this is a PowerBank firstly all the other features in this 'Icy Box PowerBank' are nice extras to encourage you to buy this PowerBank rather than anyone else's Power Bank unit.
Icy Box PowerBank

| | |
| --- | --- |
| Colour | Black |
| Material | Aluminum/Plasti (PC/ABS)c |
| Cells | 1x lithium-polymer battery = 5000 mAh |
| Current output | 1x USB type A socket |
| Output capacity | 18.5 Wh |
| Output voltage | 5V DC |
| Output current | 2.1A max |
| USB over-voltage protection | Trigger 2.4A ±0.1 A |
| Load input | 1x USB micro B type socket (5 V/2 A max.) |
| USB short-circuit protection | Yes |
The Icy Box PowerBank is available from the link below for £28.34.
https://www.reichelt.de/?ACTION=3;ARTICLE=161557;SEARCH=icy%20box%20powerbank