Raumfeld One S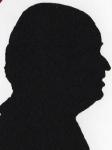 A chance email had me journeying to Bethnal Green to look at some audio products produced by a German company whom I had not heard of previously. After listening to several I asked to review two of their offerings, this is the first probably their entry level offering but do not let that make you think it is either poor quality or cheap.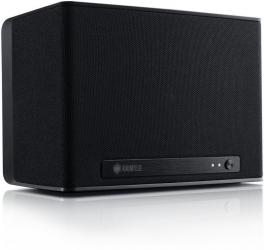 click image to enlarge
The Raumdeld One 'S' measures 17.5x10x13cm and it weighs 1400 grams.
The back has a large rubber bung to cover the inputs. While you need Ethernet to set it up once successful you can take that out and work on Wi-Fi.
The well-marked connections are for Ethernet, USB, Reset, Setup and Power input.
The front has two white LEDs and a small on/off button.
The 24 page Setup Guide is clear and easy to read.
I admit that my initial attempts got not very far always stalling when it looked for my Network. I tried over three different days and then gave up.
Their technical support person I shall call him 'Merlin' suggested I try again and of course it worked, once past this point all worked as it should until I tried linking Spotify to it and again after trying almost everything else emailed 'Merlin' and you guessed it next time I tried Spotify offered their speaker as an outlet.
Sadly he has rejected my offer to go half's on his lottery ticket.
The unit itself has six near invisible rubber buttons on top of the unit, volume up and down and numbers 1 through 4 which are reserved for Internet Radio stations of your choice. Once playing Internet radio you do not even need your SmartPhone still to be in range it will just keep playing even if you turn the phone off until you switch the `Raumfeld speaker off.
You control this unit through an App there are currently versions for iOS and the one I used for Android.
Sound quality from this small unit is amazing and at such a good volume level that when my phone was at maximum volume I had to listen in the next room and there was no hint of distortion.
The Home screen has three horizontal bars top left that produce a drop down list of Home, TuneIn Radio, My Music, Playlists, Spotify and Line In. Below this Music Services and Settings. Press the three bars again and back at the Home screen you have four icons Music, Heart, Back and Choices.
My Music is whatever you have on your phone. Playlists are easy to setup and can be from various sources. Finally line in will have no effect without something externally connected.
This product is all about quality and while I would love to say excellent and leave it at that I know regular readers want more details.
I gave it all my normal files that I use for reviewing headphones/earbuds and I have no complaints. I would love to play Jazz all the time but I realize that not everyone shares my musical taste and while I like a bit of classical piano my popular choices are somewhat limited but I realise that the voice both male and female is what a lot of people musical taste is I try to avoid opera but for you readers I even tolerate the odd cat being strangled.
The whole gamut of Genres was handled by this Raumfeld small speaker.
My advice is find an audio store that sells their whole range and take lots of money with you. The link below has it for £209.98 including delivery.
http://www.amazon.co.uk/gp/product/B00PHD6DZQ?ie=UTF8&tag=gadge0a-21&linkCode=as2&camp=1634