Google Chromecast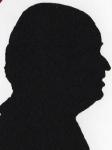 A tool to do a single job, link to various web sites such as YouTube and relay whatever you have on your phone or Tablet and via some electronics in the supplied HDMI dongle and show it on your TV with sound, so any non 'Connected' TV is updated.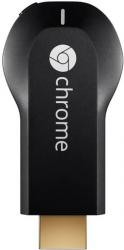 click image to enlarge
It is 7x3.5x1cm, the middle figure the width is at the fatter back just behind the connection it is only 2cm so should not block any nearby HDMI ports. However if this is a problem on your TV an HDMI extender cable is supplied.
It is also supplied with a 1.5metre lead which fits into the end of the Chromecast and is a USB lead who's other end is either a standard USB plug or fits into the supplied 13AMP plug, this is required to provide power to the Chromecast.
Unlike some other recent items that connect to a TV this worked as stated out of the box.
It is designed to work with the Chrome Browser and you will need to download a Chrome extension to make it function but apart from that it works as stated.
If you have a very recent TV then I can see no real reason to use this as 'Connected' TVs can download from the Internet. However if your TV is of a slightly older vintage then this can bring it up to date for not that much cash.
A movie on your phone is OK for watching on the train but far better when viewed on a decent sized TV.
This is a Google product and not surprisingly it will only work with the Chrome Browser, if you use another Browser you can download the Chrome Browser for free. On most Android phones and Tablets the Chrome browser is pre installed.
I have both Internet Explorer and Chrome installed and you can even have both running at the same time. To view whatever you are viewing on your Phone/Tablet just click on the little icon top right of the Chrome Browser and it connects with Chromecast on your TV.
Installing Chromecast is a simple three stage operation that is shown on the inside of the Chromecast box:
Plug into power and TV
Switch TV to correct HDMI port
Complete setup as shown on your TV screen
It is really as easy as that. It is even possible to power the Chromecast from your Notebook rather than the mains.
It states that it works with IOS devices but I did not have anything suitable to try it with.
Chromecast is available from Currys or PC World at £30 or if you prefer to buy online a link is below.
http://www.currys.co.uk/gbuk/audio/digital-media-players/digital-media-players/google-chromecast-22021414-pdt.html