Roberts Play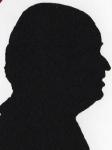 I have reviewed a number of large DAB units, a few units that can be considered 'audio systems' but I think only two units previously that are small enough to move out and about without the tether of a mains lead connected.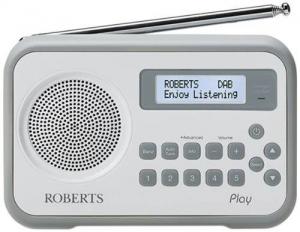 click image to enlarge
This is both a DAB and FM unit.
It is 16x9.5x3.5cm this figure is without leads inserted into mains input or optional earbud/headphone output or the six piece 67cm total height aerial extended.
It is mains or battery powered the latter by four 'AA' batteries. I tried both standard and rechargeable units without problem. It was possible to charge the latter in situ by using a tiny flip switch in the battery bay.
The left side has a line of three sockets. USB for firmware updates, 3.5mm jack for headphones and DC input. The top, base and right side are all clear. The back has a drop down door to insert the 'AA' batteries and just below the top a lock catch to hold the collapsed aerial in place.
This leaves the face; the left side has a 5cm circular speaker. The right side has a 4.7x1.5 two line display which by default is backlit in white for around 12 seconds after a key is pressed when powered by mains the backlight stays on. The normal display is black on grey which can give reading problems in dull conditions.
Below the display are two lines of five square buttons and to their right two columns of two circular buttons so touch control in poor or no light is possible.
There is a small 28 page manual that explains what the well marked buttons do. However most actions are clear and perhaps the only thing you might need to check is how to set the Presets.
There are ten available five each for DAB and FM. No warning is given if you are about to overwrite an already stored Preset. The main FM stations change to the station name once tuned in. There are five choices for the second line Info with the station name taking the top line.
All units come with a grey rubberised sleeve. I am told there is also a second coloured sleeve supplied in the box but this was not available when my sample was sent. While the grey goes with the button colour a colour might suit some decoration setups.
I found that batteries lasted for around 26 hours when used for a few hours a day, slightly less around 20 hours for rechargeable units.
While it is always useful to have a battery radio – especially during the terrible recent weather – for those power cuts it is also useful in areas without power.
I would like to say it is useful when out and about but the long aerial means it is hardly sensible and the aerial could inflict injury if you change direction in a crowded area.
I did find that with a reasonable sized pocket and just the first 15cm part extended stronger stations could be received.
The Roberts Play is available from the link below for £59.99
http://www.amazon.co.uk/gp/product/B008QUKIXK?ie=UTF8&tag=gadge0a-21&linkCode=as2&camp=1634