Powermat Wireless Charging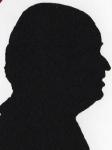 Review controls
For once the first word describes this product exactly, it is a Power Mat, you lay your supported devices on it and it or they are recharged, in some cases quicker than they would be if they were recharged by a conventional cable.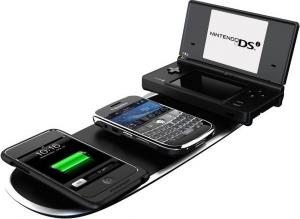 click image to enlarge
There are two styles a solid mat and a collapsible one that folds into three for ease of movement (a zip up case is supplied) either way the mat when open is 30x9x1cm. The names given to them by Powermat are Home & Office Mat or Portable Mat.
To give an idea of what can be charged by category you can charge Bluetooth Headsets/Headphones, Mobile Phones, Digital Cameras, Digital Readers, Handheld Game Systems, MP3 Players and even some portable GPS units.
If you look on their site (link at the end) they will tell you if your device is currently supported and by what method.
In some cases (no pun intended) a case allows you just to place your unit on the mat when you come in and pick it up charged when you leave. In other cases you use something called a Powercube a device that ships with a single tip that allow you to charge a range of devices, the Powercube sits on the Powermat and you plug your device into the Powercube.
For instance I have an iPod and a small dock is available and this sits on the Powermat and you just sit your iPod into the dock.
No matter which 'Mat' you have Home & Office Mat or Portable Mat the only wire is from the Powermat to the mains and hence their claim of it being 'wireless'. When something is on the mat and being charged a small green LED is lit on the front edge, this goes out once the item is fully charged.
Up to three items can be charged at one time using the mat and there is even a standard USB port on the back for devices not directly supported.
The one drawback is that while there is a price for the Powermat that is all you get and you then need to purchase the case for your device or devices or the Powercube.
The main advantage of the mat is that whatever you want to charge is not physically attached to the mat it just is laid on it with the sleeve or iPod dock. The Powercube is operated slightly differently and extra tips may be required.
The Powercube is two items the base 6x5.5x.5cm with a micro USB tip on a 15cm lead. There is a magnitised box that sits on this 6x5.5x1.3cm that you can insert any extra tips you purchase into to keep them safe. Also supplied is a mini USB tip that fits onto the micro USB tip to allow other devices to be charged.
I have a Nintendo DS but although sleeves for this are meant to be available as yet I have not been able to get one. This changed just before the end of the review and I managed to test it successfully.
I asked at the launce about sleeves for the Blackberry Pearl that I understand is still in development although a range for other Blackberry devices are available. I suggest checking the Powermat website to see if your device is supported.
I have to take their word that a range of the supported devices charge quicker as the ones they mentioned I do not seem to have. However it can avoid the screams when a particular charger seems to have vanished and perhaps best of all no huge amount of spaghetti that of course always manages to end up in a huge knotted mess.
Doing my Internet searches found the Home & Office Powermat available at £69.95 the Powermat Portable is available at £79.99 both are available including free delivery.
http://www.amazon.co.uk/gp/product/B002S51YZK?ie=UTF8&tag=gadge0a-21&linkCode=as2&camp=1634
http://www.amazon.co.uk/gp/product/B002S51YZU?ie=UTF8&tag=gadge0a-21&linkCode=as2&camp=1634