Polaroid Photo Frame/Weather Station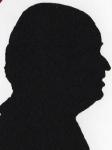 Review controls
This is far more than a standard photo frame in a body not that much bigger. It is also a wide angle frame so images taken in the newer formats display full screen, however standard images can be enlarged.
Buy Now
Polaroid Picture Frame and Weather Station
£69.99 from PC World
including shipping


£69.94 from Amazon
including shipping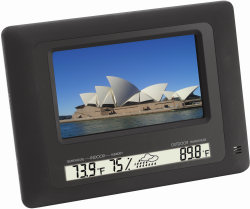 The Polaroid frame itself is black and 25x18x3.5cm. The screen itself is 15.5x8.5cm this gives the 7inch diagonal measurement. Under the screen is an LCD display 15.5x1.5cm that displays indoor temperature and humidity as well as outdoor temperature and the likely weather. I found the latter was not that believable but the outdoor temperature was correct as this was sent by the provided wireless sensor that you place somewhere outside.
The frame can be hung either portrait or landscape and there is a standard picture type prop that folds out of the back so it can display like a conventional picture frame.
The right side has all the inputs that's for power, USB and SD or Memory Stick Duo/Pro cards. The rear has an on/off slider and just behind the screen on the top are four buttons to control any screen display. However of course you can do everything from your chair via a supplied remote control.
There is a perfectly adequate User Manual (the first thirteen pages are in English) and should you have any questions it should answer them.
On first switch on if you do not insert a memory card it will - after a while - display those stored in memory. However almost immediately the temperature, humidity and (assuming you have it connected) the external temperature will display.
Initially the screen will display a message telling you to insert a card. Then it will display the stored images provided by Polaroid (I think I counted nine). You will by now realise that this frame has internal memory.
By using the USB port you can connect your camera direct to the photo frame to view images in that way.
The way it views images stored on a card seems totally random as I gave it a card with images taken over the last few months and the order they were shown was not in any sequence I could follow.
Assuming you use the frame in landscape mode (if used in portrait the temperature information would be sideways) then I found that portrait images normally did not display well.
Perhaps putting all the portrait images in one show might work. For landscape initially (with no zoom) they will not use the whole display. This is one of the nine different things that can be set in the basic controls.
Mosaic View where four images are displays together. Image Size original or optimised the latter will of course lose some of the image, however if you set a single image to display you can control which part it shows. A total of eight different transition effects. Three speeds of slide show. Slide Show shuffle (as mentioned). Set Favourites this could be useful for when only certain images might be appropriate! Auto slide show (five time options), Language a choice of seven but now I am assured that English is the default set at the factory, finally the option to reset to the factory settings.
The addition of the weather station adds something to what is otherwise a photo frame albeit with more options and choices than most, perhaps the only missing option is the ability to transmit images by Bluetooth.
Doing my Internet searches found the Polaroid Digital Photo Frame with Built-In Weather Station at a best price of £69.99 from the first link below.
http://www.pcworld.co.uk/martprd/product/seo/471061
www.polaroid.com/global/detail.jsp?PRODUCT%3C%3Eprd_id=845524441767455&FOLDER%3C%3Efolder_id=2534374302035865&bmUID=1206863464957&bmLocale=en_GB