Parrot 7inch Photo Frame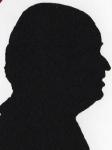 Photo frames that can view content from SD cards are not uncommon however this offering from Parrot does not only that but it can also -via Bluetooth- view images on your phone, PDA or other such device.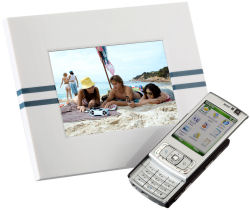 It is 20.5x16.5x2.2cm. The unit I had was white with a couple of blue horizontal stripes across the front. The centre part of the front is the display screen and this is 13x8.5cm and this gives by my mathematics a diagonal measurement of 6.2inches so I am not sure where the stated 7inches comes from.
In another of life's situations if you told a lady to expect 7inches and you delivered 6.2inches she would almost certainly notice the difference.
The hard wired power lead (2.4metres) emerges from the back bottom right of the frame. It goes via a 3.5mm plug into a 13amp plug that converts output to 12volts DC.
About 10cm from the frame is a built in push plug that if held for sufficient time produces a circular pattern on the screen and when the circle is completed the power is removed. Certainly you are unlikely to turn it off by mistake.
The outer frame is removable should you want just the centre item for any purpose. There is a screw eye in the rear so it can be hung in one of two screw holes to enable the frame to be hung either portrait or landscape.
Near the exit point for the power lead is another larger screw hole covered by a blank but once removed you can place a 8cm rod into it to enable the photo frame to sit on a table or desk much like a standard non electronic photo frame. There are three buttons on the back of the unit. These, and how to pair the unit with a Bluetooth device are all described in the fifteen pages in English in the small 5.5x4inch user manual.
I found the easiest (quickest) way to get it showing something was to insert an SD card in the side of the unit top left beside which is a mini USB socket should you wish to connect to a PC or other device.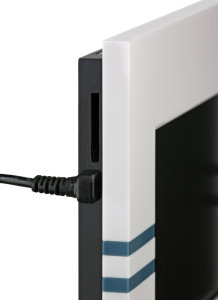 The unit has some memory and the manual states it can hold up to 300 photos. The central button on the rear of the frame accesses the menu. The other two button can either be used to scroll back or forward through any photos or to move through the menus.
The simplest operation is for every image to be shown as a continuous slideshow. However you can force a particular image to display in a particular way but this and sorting to appear in a special order cannot be applied to images on an SD card. It is possible to move images from internal memory to an SD or vice versa.
To link just activate the Bluetooth on your phone or other device and the Photo Frame should show up then just link. This can also work with images on a PC or notebook providing they have Bluetooth. If not then use a USB lead.
Should you wish to move from image to image in a special way you can set fade, tile, wipe, checkerboard and random. Just make sure that all the images in memory, on your phone or SD card are suitable for all to view.
It's nice to have the choice of connection and display types for the frame. The screen resolution is QVGA that's 410x234 but I am still unsure why it's called seven inches as shown in the frame it certainly is not.
Doing my Internet searches found the Parrot DF7220 at a best price of £95 from the first link below.
http://www.amazon.co.uk/gp/product/B000ZRRXWQ
http://www.parrot.com/uk/products/digitalphotoframes/parrotdf7220