Motorola Moto G LTE (XT1039)

Published Sep 1, 2014 Author
bidmead
Review controls
Smartphone prices are falling fast, reaching the point where you may be thinking of buying your next one outright and topping up monthly with PAYG. Budget smartphones are the sweetspot, but you'll need to choose carefully if you're not going to end up lumbered with rapidly obsolescent technology. The brand new Moto G LTE at around £150 looks like a pretty good bet.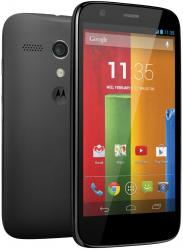 click image to enlarge
Let's first clear up the distinction between this new LTE (4G) version of the Moto G and the now year-old previous version, because I foresee some considerable confusion, not least because the two models are externally physically identical.
There's a good deal of confusion too about what 4G (Fourth Generation) and/or LTE (Long Term Evolution) actually mean. For the purpose of this review these are synonymous terms that suggest a noticeably faster Internet connection out on the street, IF your service provider happens to support the same flavour of LTE, and IF that LTE coverage coincides with your current location.
As the name suggests, the potential speed boost is the key feature of this new model. Unlike the earlier version there's also a slot to install an additional microSD card (up to 32GB). You may well need this: the earlier model comes in a 8GB or 16GB version, but the new Moto G LTE is only offered with 8GB.
Oh, and here's one more point of confusion for anyone switching over from the first Moto G to the new model. The SIM slot, which used to be in the the upper left side of the phone (looking from the front) is now the slot for the microSD card, and the SIM clicks into a new slot on the lower right side.
Like its forerunner the new Moto G's pebble-like curves make it a very nice-to-hold device, with a decent heft that's not too heavy and a solid reassuring build quality.
Screenwise, I have one niggle: Motorola's marketing bumf insists "Its edge-to-edge display stretches to all four corners of the phone." Yes, it's an excellent screen, certainly, clear, bright and tightly pixelled at 1280 x 720 HD, or 329 ppi and protected by Corning Gorilla glass. But it sits within a distinct black bezel that at the bottom is three-quarters of an inch deep. This isn't a criticism of the phone, but I am definitely having a go at whoever wrote the marketing material.
The back is removable, but if you're hoping this means you'll be able to swap out the battery during a heavy day's use, you're out of luck. The back comes off (if you've mastered the knack - it's tricky and strong thumbnails help) only to install the SIM, the microSD card, or to swap it for cosmetic purposes.
Various coloured backs (Motorola calls them "Grip Shells") are available, with or without fold-over flaps ("Flip Shells") to protect the screen. The flap backs are my favourites (yes, Corning glass is strong, but if you carry your phone in your pocket with your keys… ). And I particularly like the way the flap will snap closed magnetically, and when you open it again will automatically bring the screen back to life. There are seven different colours of Flip Shells, and a choice of five colours of Grip Shells. Nineteen customisable options in all.
Happily, with 2070 mAh capacity, the built-in rechargeable lithium-ion battery should give you a decent day's run for your money. And the MotoG LTE comes with a full repertoire of juice-saving tricks.
The battery feature missing, I think, from a phone built for today is wireless charging. Motorola doesn't provide a cost-option wireless charging back, and there's no special connection for an add-on wireless receiver, as there is on my Galaxy Note 3. However there have been reports of Moto G owners successfully adding a universal Qi wireless receiver (the kind that slips under the back and connects through the USB port) with very little change to the outward appearance of the phone.
What else is missing? The WiFi is confined to the 2.4GHz spectrum - hand-in-hand with 4G it would have been nice to have 5GHz WiFi support, better still with the new superfast AC3 enhancement. But 5GHz tends to be juice-guzzling, and this is a budget phone, making sensible sacrifices in the interest of usability and build quality. It seems to me Motorola (now in the hands of Lenovo) has done the right thing here.
The elegantly simple external industrial design of the phone is echoed internally: Motorola's Android implementation (initially 4.4.3, but upgraded over the air to 4.4.4 while I had it for review) is uncluttered by the sort of hardwired crapware one finds in, for example recent Samsung smartphones.
At the time of writing the buy-out RRP is £149. If you shop around, you may be tempted by the 16 GB version offered for the same price or for not much more. But be aware that this will almost certainly be the earlier non-4G Moto G without the SD card option. It wouldn't be a crazy choice, given that these are still early days for 4G, but make sure you know what you're getting into.
Personally I prefer a bigger phone – I use my own Galaxy Note 3 more as a tablet than a phone these days — but if you're happy with a 4.5 inch screen that will fit comfortably into your jeans pocket, this might well be the one for you.