A Doro Clamshell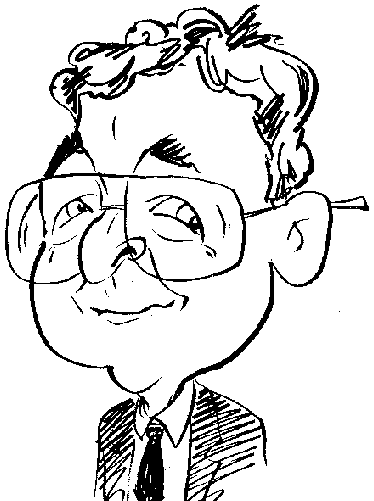 Review controls
How many functions does your mobile phone offer you? Perhaps a more relevant question should be "How many of these functions do you actually make use of on a regular basis?" The difference between these two answers illustrates the gap between a manufacturer's view and the end-user's actual needs with regards to a mobile phone.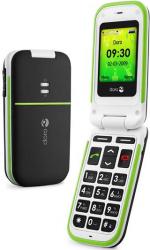 click image to enlarge
Why, if you only use your mobile phone for basic communication tasks, should you pay for all the extras you don't want or actually require. Doro believes it can offer a solution with its handsets that have been designed to be easily understood and uncomplicated to use. One such product is the Doro PhoneEasy 410gsm.
Unlike other Doro handsets I have looked at in the past, the 410gsm is of the clamshell variety. You have a choice of black or pearl white although this just refers to the outer casing. The inside of the handset is the default pearl white with an almost luminous shade of green piping running around the display screen and keypad. It has to be said that the inside has a cheap plastic look more associated with a toy that a device used by an adult. With dimensions of 53 x 100 x 19mm (W x H x D) and a weight of 100g including battery, the 410gsm may not be the smallest or lightest phone in the market but it is reasonably compact and should not weigh you down.
Keeping the handset as simple as possible, Doro has limited any external controls to just the volume keys found on the left edge. Positioned on the opposite side are sockets for mains power and headset connections. There are also a couple of LED lights on the front cover that give a warning regarding low battery level and an indication of any received SMS messages.
Opening up the clamshell, which increases the height to 196mm, you are faced with a 2-inch colour TFT screen and a telephonic number pad. While hardly state-of-the-art, the LCD screen is perfectly capable of delivery a bright, clear image in various lighting conditions. The use of the backlight can be adjusted to automatically turn off after 15, 30 or 60 seconds. A limited selection of wallpaper is available and you can also decide to show the time or date/time when the handset is in idle mode. Icons, representing features such as signal/battery level strength, ring/vibration mode plus new messages, are displayed across the top of the screen.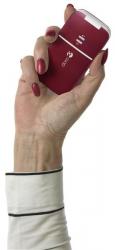 click image to enlarge
As is usual with Doro handsets, all the various buttons are of the rubberised, large variety. These buttons are raised slightly and are clearly labelled to ensure that users are in no doubt as to their function. They are easy to use even those with limited dexterity. Positioned on the rear of the handset is an additional button. This is a special Emergency Key. Its purpose is to activate a sequence whereby a user-defined SMS message can be sent to appropriate parties. The user can set up a list of five numbers which the phone can ring in order to ensure that somebody is informed of an emergency. This feature would especially appeal to the elderly and infirmed. In addition you can also set up nine speed dial numbers for easy calling.
As mentioned earlier Doro prefers a more simple approach with its products and so as not to confuse the user with a screen full on menu items, the company has taken the decision to show each menu item one at a time. The user will need to cycle through the list made up of phonebook, messages, call log, alarm, calendar, calculator, FM radio, settings and games. Appropriate options are available for each item. For example Messages has options for SMS, MMS and File Manager; Calendar allows you to view and add tasks plus jump to a particular date; FM radio, which refuses to start until the supplied ear-bud style headset is detected as being connected, gives you the opportunity to save up to nine presets; while there are two games entitled Robot and UFO. Features such as caller ID, call waiting, divert, barring and answer mode are all supported.
The Doro PhoneEasy 410gsm is unlikely to appeal to the fashion conscious or those who can not survive without camera, music playing and Internet access but then it is not meant to be used by this type of user. However if you are looking for a basic mobile phone with useful Emergency call facilities then the PhoneEasy 410gsm should fit the bill. I have seen this phone priced at £119.99.
http://www.doro.com//global/businessunit/dorocare/Product?c=11900&p=410GSM