Android OS Mirror & KM Cable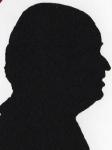 This is a three in one cable, you can charge your device, you can mirror your device on your PC and even use your computer keyboard and mouse to move around your Android devices screens and even type on it should you need. Finally you can transfer data between the two.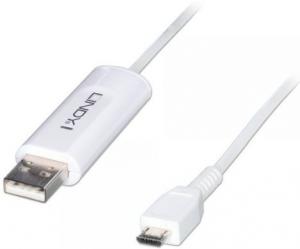 click image to enlarge
Let's start with a word of warning not all Android devices allow you to do more than charge your device via the micro USB port using their or even this Lindy cable. This is a problem as it is not down solely to the version of Android. As an example one device I have allowed data transfer and charging but once the upgrade arrived it was only the latter.
Let's start with what Lindy say 'The LINDY Android OS Mirroring and KM Sharing Cable is suitable for OS Mirroring and KM Sharing on devices running Android 4.0 (Ice Cream Sandwich) or higher and Android 2.3 (Gingerbread) or higher, respectively; and is compatible with computers running Windows XP, Vista, 7 and 8.
The cable is 1.2metres long and has a micro USB plug at one end and a standard USB plug at the other end with some electronics in the 4.5cm long items behind the plug. It looks like a memory stick in many ways but is hard wired into the cable.
To use this cable just to charge your device would be a waste of money as the cable that came with it or standard charging cables are far cheaper.
With a number of recent smartphones not having external memory slots (micro SD cards) then you need a cable to do this or your only way would be by wi-fi. This cable should do this for most unit with or without the option to have micro SD card support.
The third option is something that requires you to do a bit of work on your Android device and one of these is to enable developer mode which requires you to ferret around in the settings menu and with one such device it involves tapping the screen seven times to implement.
Once you have connected the cable to your Android device and your PC software is transferred to the PC and you have an Android icon saying KMC6105 Android Mirror and providing all the requirements have been met and your phones software allows it you should be able to see your phones screen on your PC (Mirroring) but it is phone dependant.
The nice thing is KM support which means that you can type on your PCs keyboard and it appears on your Android device you can also move your PC mouse around the screen and move through the phones menu.
A few years ago a KVM device was all the rage allowing you to use one keyboard one video output and one mouse to control two computers. In fact I still use such a device. So KM may be new but KVM is not.
Once the statement above works with all smartphones running the operating systems mentions then this would be a very useful tool. If it works for your phone then it can save time and effort as even taking a micro SD card out of a phone and inserting it into a PC is a task in itself as you need an adapter of some sort to carry out basic transfers. For those recent phones that don't even have a micro SD card slot it's very important as transferring large amounts of data via wi-fi is not that desirable.
The Lindy Android OS Mirror & KM Cable is available from the link below for £39.98 plus delivery.
http://www.lindy.co.uk/accessories-c9/smartphone-tablet-pc-accessories-c384/cables-adapters-c385/android-os-mirroring-km-sharing-cable-1-2m-p7777