Booq Boa Shift Backpack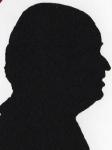 This item would be for those who go out and about a lot. As soon as a say 'high quality' it also means 'high price' but the two can go together to produce an excellent well-made product so if you walk a lot then you are made for this item.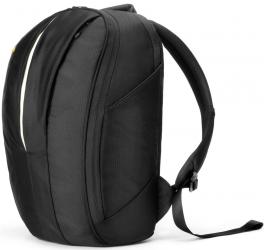 click image to enlarge
This back pack is manufactured to take a notebook first and everything else second. It's weight when empty is 1565grams.
It is 46x30x13cm but the last figure the width does stretch. There is a filled 13cm long handle on the top for comfortable carrying when it's not in residence on your back.
The outside back is packed with an airmesh material that lets your back breathe and so lessens sweat. The top collar is 6cm wide leading down to the straps that are 7.5cm wide with a possible 32cm of expansion at the base of each side.
Going towards the front from the back the first zipped compartment is 41cm deep and 30cm wide, the zips for this run all along the top and 9cm down each side allowing whatever to be extracted easily. Having two zips mean even a strange oversized object can be partially zipped.
Each side has an open pocket 20cm deep at the back and 12cm deep at the front to take all those bits.
Now the main compartment that opens in the form of a 'V'. Again a pair of zips that go down 42cm each side as well as along the top.
From the front inside now, first the all-important keyring to hold your keys securely. Next a 20cm wide airmesh pocket that zips along the top, then half way down two sloping open pockets and one can be secured with a popper. The open middle is up to 12cm wide. Now an open 18cm deep and 30cm wide pocket and next matching sloping open pockets again one is secured with a popper.
Finally a padded purse 18x12cm with a zip all along the top and just a tad down the left side.
Should you lose your bag it has a serial number so you may have a slightly better chance of getting it back. Of course this requires you to register it when you purchase it.
The interior material is nylon and the outer material is water repellent.
I wore this when out and about on a number of occasions and was surprised how comfortable it was.
It is designed to take a 15inch notebook and all its accessories. I have worn a number of backpacks and most became very uncomfortable after a period of usage; this did not, probably because of the wide well ventilated padded straps across the shoulders and down the upper back.
Correct packing – not just throwing things in – is all important and having something jutting into your back will destroy the comfort as all the engineering of it distributes the weight and having a pinch point ruins the design which is what you are paying for.
The Booq Boa Shift Backpack is available from the link below for £108.19 with free delivery.
http://www.amazon.co.uk/gp/product/B00FE1Y0D8?ie=UTF8&tag=gadge0a-21&linkCode=as2&camp=1634