Multiway laptop bag from Crosskase

The Crosskase Eighty 6 laptop bag is suitable for laptops of up to 17.3 inches and should meet the needs of the busy commuter who can use it as a backpack, a messenger bag or a tote bag.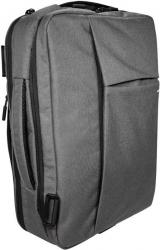 click image to enlarge
Weighing 1.2kg it is 32 x 46 x 17cm in size it is made from durable grey 600D polyester with the lining in a lighter weight blue material. It has a wide range of pockets and compartments and has been designed to accommodate the laptop and the rest of one's paraphernalia on the daily trek to and from the office.
Comfortably padded handles on both top and one end as well backpack shoulder straps give one a choice of carrying modes. When not in use the latter stow neatly out of the way, within the luggage trolley slide-over, so as not to leave anything exposed to get entangled. In the long edge, adjacent to the trolley slide-over, there is a 15cm square pocket which is of a suitable size to hold travel cards, small change or any items that need to be readily to hand. In addition, there is a shoulder strap that is well padded and is firmly attached and yet easily detachable being secured by Velcro and press-studs. This, I found, was a very convenient and effective touch.
There is a fully padded compartment for the laptop at the rear and a front half-height one for odd items such as USB sticks and business cards. The main, central compartment has a zip that goes around three sides and has fabric gussets. This allows it to be opened wide for easy access to the numerous internal pockets. Those on one side have full length zips while those on the other have Velcro flap closures.
One of the zipped compartments is large enough to accommodate A4 papers while the other, which is lower in height, is divided into two mesh-fronted compartments. The largest of the three pockets on the other face is padded and designed to take a 10 inch tablet leaving the others free for miscellaneous items such as cables, power brick, mouse and a portable hard drive. There are also three slots for pens or pencils.
Even when all these pockets are occupied there is plenty of space in the central area between all these pockets for a water bottle and a number of bulky items -- possibly, even a sandwich box -- so that the user will soon work out the most convenient way to arrange all items so that everything has a place. This is extremely important for both the commuter and road warrior who need to ensure that they keep everything to hand and don't leave items in a hotel room or at the other end of the daily commute.
Available from Crosskase.com for £49 or from Amazon at £39.99, this is a well-designed laptop bag which appears to have been planned by someone who actually has experience of having to cart a laptop around. Consequently, many people could well find it the ideal choice for both the daily commute and even for more protracted trips.