Freecom ToughDrive SSD

The Freecom ToughDrive SSD is a portable 256GB USB3.0 drive that, being all solid state, will not be vulnerable to the knocks that could well damage a conventional hard drive. Consequently, despite its price, it should meet the needs of road warriors who want a physically small, large capacity, lightweight and robust portable storage device.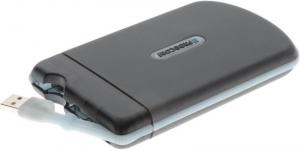 click image to enlarge
The ToughDrive comes in a rubberised case which can fit nicely into the palm of one's hand. It is mainly grey in colour with dimensions 14 x 8.3 x 1.9cm and weight 172g including the short permanently attached USB3 cable that neatly stows away into a convenient slot on the body of the drive. This cable forms part of the eggshell blue styling strip running around the case. While this cable is just long enough to connect to one of the USB ports on a laptop, being fairly stiff, care has to be taken when inserting it. When, however, used to transfer files to or from a desktop machine it would have to dangle uncomfortably in mid-air.
As this design of enclosure has also been used by Freecom for portable hard drives, it should certainly provide more than adequate protection for an SSD. In addition, as the USB cable is permanently attached and stows neatly into the edge of the drive case, and so cannot be mislaid, no separate carry case is required and it can be conveniently "thrown" into one's hand baggage without any special precautions when travelling.
Being FAT-32 formatted it is compatible with both PC and MAC. However, while there is disc formatter and eraser software for both platforms, the backup and other software is only for Windows.
The ToughDrive has claimed read and write speeds of up to 415MB/s when connected to a USB 3.0 port. While this is up to four times faster than would be achieved with an external hard drive, actual speed achieved will be dependent on actual conditions including performance of the system to which it is attached and size of files. When connected to a USB 2.0 port data transfer speeds will be noticeably lower. In fact, my own limited tests with a set of files totalling 2GB gave write speeds of 120 and 29MB/s respectively for USB3.0 and USB2.0. While this was a "real-world" test, I've no doubt that better results would be obtainable with a higher performance machine.
It would be inappropriate to consider the 256GB SSD ToughDrive on price alone as, priced at £260.79 on Amazon, it is appreciably dearer than a portable hard drive of similar capacity. The key factor for those for whom it is essential to protect their valuable data will be the fact that, being an SSD, it is far more robust than a hard drive. An added bonus will be that it is faster and consumes less power than a hard drive, is totally silent in operation and is in a well-designed and attractive package.