Verbatim's Laptop Backpack

A laptop bag is as much a tool as the laptop that goes in it. Consequently, it must be comfortable to use while protecting the machine and its associated accessories together with any other necessities. The Stockholm 16 inch notebook backpack in Verbatim's Bags for Business range has been designed to meet these criteria.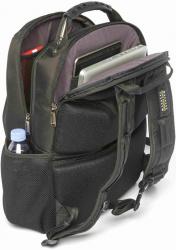 click image to enlarge
The Stockholm is for notebooks of up to 16 inches as well as being able to accommodate a tablet of up to 10.1 inches together with everything else that one needs to carry. It certainly does not appear to be flimsy in any way and seems to be well made and robust and looks as if it will provide a very reasonable degree of all round protection. Coloured black overall with red detailing the fabric and zips all appear to be heavy duty. It is 45 (H) x 36.5 (W) x 21cm (D) and weighs 1kg.
There are two full size compartments, one half size "office organiser" front compartment as well as two water bottle/umbrella external side pockets and one small top rapid-access compartment on top. This latter compartment is ideal for bus/rail tickets or even passport as well as being a temporary receptacle for all those coins, keys and other metal objects in one's pocket prior to going through a metal detector at the airport.
One of the full size compartments is padded to protect one's laptop and incorporates a pocket for a tablet. For security purposes, the zips on this compartment have been designed so that it can be locked with a small padlock. The other compartment, which can be used for paperwork, has four mesh pockets for the laptop's power brick, cables and mouse etc. Alternatively, when this compartment is used for spare clothes for an overnight stay, these mesh pockets can be used for spare socks etc.
The organiser compartment can conveniently accommodate note pads and other business paraphernalia. It has slots for pens/pencils and business cards and an internal zipped pocket to enable one to keep things tidy and in a position where one can lay hands on them.
The rear surface of the backpack has mesh-covered padded areas so that, in addition to the load being spread, there is a degree of ventilation. Similarly, the shoulder straps are padded and 8cm wide. I found that the provided breast strap prevents the shoulder straps slipping and was a major help in keeping the pack comfortably on my shoulders. When not on one's back there is the choice of a substantial carrying handle, which appears to have a steel cable reinforcement, as well as a loop to enable the backpack to be loaded onto the top of a wheeled suitcase.
Overall, this is a versatile backpack that should meet most user needs irrespective of whether it is for just carrying the laptop to and from the office or on more demanding journeys and so should be a good all round investment. The Verbatim Stockholm backpack has a list price of £69.99 but can be found on Amazon for £40.36.