A Rotating Speaker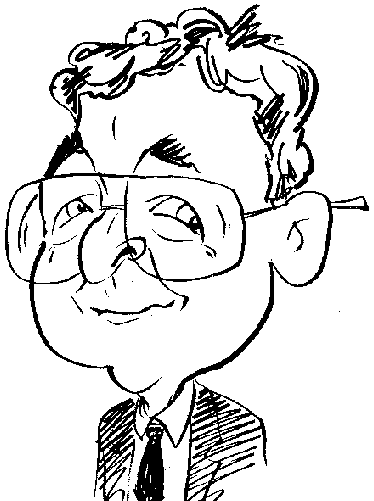 Review controls
It can prove extremely useful if you can switch the orientation of certain Apple devices when they are attached to a speaker enhancing product.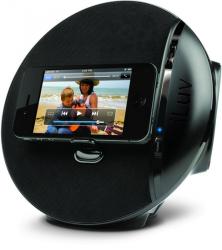 click image to enlarge
According to a popular expression, "Love makes the world go around." Now it might appear that music, or perhaps entertainment, would be a more appropriate suggestion, for attempting to take over this planet-revolving task with the arrival of a circular device from iLuv. This device, designed specifically for providing docking and speaker enhancement features for various members of the iPod family, has a circular shape. With the less than descriptive title of iMM289, this rotational speaker dock is compatible with the iPhone, iPhone4, iPhone 3GS, iPhone 3G, iPod classic, iPod nano (up to the 6th generation) and iPod touch (up to 4th generation).
The reason for the speaker's circular shape is that you can rotate it 90 degrees so allowing for the screen of your Apple device to be viewed in either portrait or landscape mode. While this change of orientation should make no difference to your listening pleasure, it would prove extremely useful when viewing any video being played otherwise you could finish up with a very stiff neck.
Opening the box reveals a black, circular speaker unit with a diameter of 18cm; mains power lead; a couple of support pads for use with the Apple device; support stand for the speaker; and a small Quick Start Guide that relies almost entirely on illustrations to get its point across. Your first task should be to attach the speaker stand via a small slot found on the rear of the speaker unit. This is necessary to ensure the speaker unit stands upright although at a slight angle from the perpendicular. The bevelled construction of the stand ensures it provides the necessary support for when the speaker is used in either of its two positions.
Located on the front of the speaker, approximately 4cm from the bottom, is a lip featuring the docking station on which the Apple device sits. This docking station will recharge the Apple device and acts as a conduit for music to be played through the speaker unit. Track selection will be from the Apple device as there is no remote unit with this product.
A rubberised, C-shaped support pad is positioned in the centre of the speaker. The Apple device rests against the pad. As mentioned there are a couple of replacement pads of slightly different thicknesses in case you need to make an adjustment. You simply detach the one in occupation and slot in one of the other pads. Alongside this pad is a foldaway adjustable clip that provides support for the Apple device when the speaker is rotated by 90 degrees allowing you to view the screen in landscape rather than in portrait mode. Buttons for power on/off and volume adjustment are positioned below the lip. Connections at the rear allow you to attach the mains power lead and link an MP3 player to this speaker – you will need to provide an audio lead with the appropriate 3.5mm jack plugs.
When turned on, a small LED light will glow reassuringly to indicate the on status. Apart from volume adjustment, all other controls will need to be activated from the Apple device. When tested with an iPod classic and sundry other Apple units, audio quality was good with a rounded, rich sound with plenty of amplification. However the situation was not so clear when using the AUX connection for use with an MP3 player. I had to increase the volume level by double the setting in order to achieve anywhere near the same degree of amplification. While this is no real problem at the time, it could cause some discomfort later if you then switched to using the more responsive dock feature with an Apple device. You would be blasted by a louder output than you were expecting.
I would be happy to use this device with my iPod classic or other Apple device but not using my MP3 player. Priced at £39.99, this rotational speaker is available from Argos, Littlewoods, HMV and Sainsbury's (Christmas store) and of course Amazon.
http://www.i-luv.com/product_list.asp?category_cd=C002&cat_lev=1&keyword=