Water Clock and Special Socks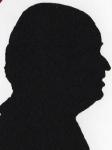 This may seems like a strange mix but such is life. The first a clock that runs on water. The second maybe suitable for anyone with back problems special ribbed socks, while running is not on my agenda if you were fitter you may be able to.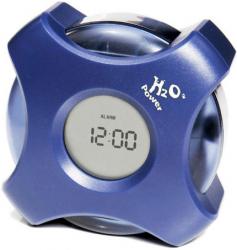 click image to enlarge
Water Clock
I reviewed a similar device around a year or so ago however that was somewhat different and only used water to power the battery. This unit also uses water as ballast as it can not only be used in clock mode but also by turning in increments of 90 degrees for three other purposes and the water encased in a tube around the unit keeps it bottom heavy.
It is 10x10x5cm and when the tube is around 40% filled with water weights 170grams.
The instruction sheet gives good clear instructions to set the time and date and when correctly set the day of the week flashes. The days of the week form a semi circle around the top of the 4cm circular display. The date is shown across the bottom of it with an alarm indicator showing on the right edge. 1x.5cm numerals form the digital clock display in the centre of the display.
Turn the clock 90 degrees clockwise and it shows the time the alarm will go off. Turn another 90 degrees clockwise and you get a minute and second stopwatch. Turn 90 degrees clockwise again and you get a Celsius thermometer giving the full degree temperature. Finally turn another 90 degrees clockwise and you are back to the clock.
To start you need to place a few drops of water in the top of the water battery and insert it in the rear of the unit. You are supplied with a small pipette to place water through a rubber bung hole to get up to around 50% of water in the tube around the clock, you will need around five of six fillings to get to this stage.
During my review period it has kept perfect time and it has never lost a drop of water even when in stop watch mode where the bung is certainly under water as it is at the bottom of the unit.
Available for £19.99 from the link below. www.gadgetshop.com/Gadgets/Lifestyle_Gadgets/ViewAll/PRDOVR~236430/Water+Powered+Alarm+Clock.jsp
Reflosocks
Perhaps one of the strangest things I have reviewed but as a chronic back pain sufferer you tend to try most things as a means of alleviating the pain.
When they arrive they look like any more or less normal pair of black ankle socks there is a white reflotherapies.co.uk white web address on the top. However the secret is three ribbed bands of the material running from toe to heal under the sock. These bands are around .5cm square and you are in effect walking on these three bands.
The instruction sheet states that you should wear them for up to three times a week. Stated possible side effects are that your feet may feel tender as you may have reflex points were the ribbed areas touch. Yes my feet were tender but I kept going for over a month, I wore then both indoors and outdoors. Perhaps because of sore feet they were worm more inside than out as being able to change socks when in public is not always easy should the feet become extra tender. I found they were more tender the next day.
The claims are relief from aches and pains, better mobility, improved sleep, few headaches, more energy and improved circulation. According to the instruction sheet 91% of wearers said the socks helped alleviate their symptoms when worn regularly, for up to an hour and a half at a time.
Not only are they said to provide natural pain relief for back sufferers but also for neck pain. There are probably dozens – if not hundreds – of different back and neck complains. For me however they did not seem to help, but as I have had my problem for close to twenty years I am not that surprised.
Available from the link below at £16 a pair or two pairs for £28 both including postage and packing.
http://www.reflosocks.co.uk/index.php/reflosocks/reflosocks-backandneck-gift.html