AOC 34inch Panel U3477PQU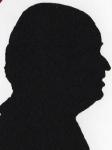 Yes its big, you could display a lot of spreadsheet or several web pages on its possible 3440x1440 display. You could use it in either portrait or landscape mode as it swivels easily on its stand, you could even treat yourself to cinema videos without large borders top and bottom.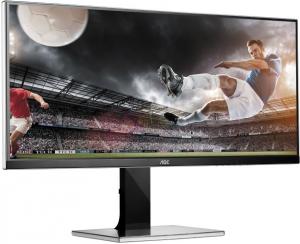 click image to enlarge
This AOC 34inch Panel measures 82.5x37x2cm; its stand is rectangular 30x22cm and raises the panel between 6 and 27cm in landscape mode.
This is certainly the largest - in screen size – panel that I have reviewed but even with its fairly weighty base it weights a fraction of what my first 17inch monitor weighed, that you always had a space to put it down before you picked it up, this unit is still quite easy to move around.
Just for a moment think 1920x1080 HDMI and this is capable of WQHD 3440x1440 and it is also capable of displaying in both landscape and portrait. 21:9 is the formal for a lot of films.
The connections are all in a downward facing line either side of the support arm at the back of the panel. They are towards the right edge the power lead input as well as an on/off button. Then on the other side of the support Digital, HDMI, Display Port and VGA (D-Sub) and then audio in for VGA and 3.5mm socket for Headphones/Earbuds.
It even has a four port USB hub on the left side which has both USB2 and USB3 ports, so you should be able to have that marvellous clear desk with everything linking to the panel. You even have a fast charge port to quickly replenish your SmartPhone or Tablet.
On the underside near the right bottom edge are five touch buttons to adjust the display as required. As with most recent panels the Auto display is fine for most circumstances and in my tests I founds loads of extra contrast and brightness for the occasions you require it.
The one thing I found that when watching a Blu-ray or DVD the volume from the inbuilt speakers is always near the top of that available to hear voices – especially for US movies when muttering seems the norm – could do with another 20% that is just not there. In fact on some occasions I resort to headphones to hear the voices.
The large range of height available means that you should have a happy back as it should be able to adjust the perfect height for you, while this panel is not quite 4K Ultra HD it is well on the way to that.
It has good colour stated to be 1.07billion, good brightness and contrast; the viewable angle is good from above or below and to either side.
This unit comes with a three year warranty and if you look at the second link you can see just how much more space you have than that of a 1920x1080 display.
The AOC U3477PQU is available from the first link below for £607.79 with free delivery.
http://www.amazon.co.uk/gp/product/B00LO0FNZ2?ie=UTF8&tag=gadge0a-21&linkCode=as2&camp=1634