JoyTab Duo 7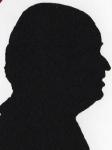 Review controls
Having looked at a couple of larger Android tablets from Gemini here it's the turn of one that can fit into a larger pocket. So for those who want something bigger than the screen on a phone but not one as large as a notebook.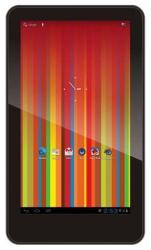 click image to enlarge
It is 19x11x1cm, the last figure is less at the edges. The viewable screen is 15x8.5cm giving the notional imperial diagonal measurement of 7inches. It weights 276grams.
This unit immediately has an advantage on others being handled by novices in that all the connections are on one landscape end. So first you are less likely to touch a button or connection and second less likely to suffer a non-requested 'auto rotate'.
The connections are headphone socket, micro SD card port, mini USB and slightly raised on/off button.
You need to press the on/off button for a couple of seconds to initiate boot up, I then found it was 40 seconds till the unit was ready to use.
It has Android 4.1.1, it has 1GB of RAM, 8GB of internal storage and you can add up to another 32GB with a micro SD card. This unit has a dual core processor Arm Cortex A9. The screen supports multi touch so scrolling etc. is very smooth to use.
There is an internal speaker which is on the back of the unit, this is enough for a sound or beep but to listen to music I would recommend ear buds or headphones.
As well as the normal three touch items that Android uses for back one screen, home and open app there is also volume up and down as there are no external buttons to do this.
The rest of the bottom line are a digital clock, wireless strength and battery remaining the last two if touched show which wireless you are connected to and an exact percentage of battery remaining.
The wireless reached anywhere around my property and I was able to use any of the Android apps I use with other such devices.
The onscreen keyboard was fine to type the odd note or sentence or two but I would not want to type allday with it.
It Comes with two leads a 30cm offering mini USB to USB which you need to charge the unit, the second is a 20cm offering which mini USB to USB that allows you to attach any USB stick to the unit and while it is less convenient to have a lead hanging from it USB sticks are far cheaper external memory than micro SD cards and also easier to keep track of. You can therefore attach one to a PC copy files such as audio, video and pictures and then play them from the stick on the Duo 7. There is also a DC connector that allow you to charge it from a wall socket.
This can be very convenient when you want to show pictures or video without having to take your PC or notebook with you, just the lead and memory stick.
There is a VGA camera on the front of the unit ideal for Skype or such things, there is no rear facing camera on it.
The documentation is a small 20 page Tablet User Guide which should be enough for even a novice to get up and running, there are a few illustrations to help identify what and where. It takes you through the basic Android apps.
This unit enables most things that one would do on a computer but of course fits into a large pocket. It works fine on a Wireless router and could be all a 'light' user needs. If you go out and about and visit places with Wi-Fi again it can be useful but remember you are not the only person using that Wi-Fi.
The Duo 7 Tablet PC is available from the link below for £84.99.
http://www.box.co.uk/Gemini_Joytab_DC7_7_Dual_Core_Duo_8Gb_T_1351098.html