Pocket-Sized USB3 Backup

While we all know that it is essential to back up our data, all too often we don't do it routinely. As Verbatim's new Store'n'Go USB3.0 portable hard drive is small and comes with back-up software so making it just that bit more convenient to use. Hence, it is just the device to make it more likely for us to get into the habit which will reduce the risk of coming to grief.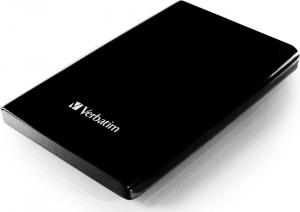 click image to enlarge
This new Ultra Slim 500GB USB 3.0 hard drive, is 80 x 160 x 10 mm thick and is of a size that will easily fit into the corner of a drawer when at home or in the office. Equally well, as it only weighs about 150g complete with the 60cm USB 3.0 cable it can be carried in a pocket or handbag. After all, one doesn't want to keep it in one's laptop bag as this would risk both the machine and backup being lost or stolen at the same time.
It is FAT-32 pre-formatted so is ready to use on both PC and Macs and is a new generation USB 3.0 device that, unlike earlier drives, can be powered from a single USB 2.0 port hence it is fully backwards compatible. This means that, even if one cannot take advantage today of 3.0 being ten times faster than 2.0, one is future-proof and ready for when you get a machine with USB 3.0.
The drive is supplied with GreenButton software, which enables the drive to power down after a specified period so as to save power, and Nero BackItUp Essentials. Once the drive is connected to a USB port on the computer these two programs can be installed on the machine. Not everyone will consider that the former is of great importance in view of the low power consumption of the drive. However, Nero back up software is very flexible in operation so that the user can select the files and folders to be backed up, when they should be backed up, and what form the back up should take. For example, one of the options is to do a "differential" backup that saves a copy of all files that have changed in comparison to those in the last full backup. This saves both disc space and time.
As this Store'n'Go drive is supplied ready formatted and is complete with software and the USB cable it is ready to go and provides a complete and convenient backup solution. Furthermore, it is suitable for use with one of the latest TVs that support USB recording. At a list price of £59.99, for either the black or silver versions which have product numbers 53150 and 53151 respectively, it is a worthwhile investment to protect one's data which could well include photos which are totally irreplaceable.