Acer Aspire Notebook 5749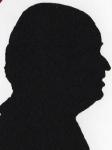 At last shiny black all over is not what all notebooks seem to be. Here a 15.6inch screen offering with a quad core Intel i3 processor. While the base is matt black the lid is patterned grey, sadly the screen surround is still shiny black.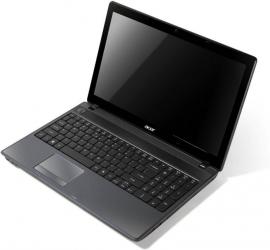 click image to enlarge
The Acer Aspire Notebook 5749 measures 38x24.5x3.5cm at back and 2.5cm, it weights 2.3kilos.
The right side has a DVD multi drive and two USB2 ports. The front has a card port and two 3.5mm sockets for external microphone and earbuds. The left side has DC power input, VGA output, Ethernet, HDMI out and a USB port.
Open the lid and the screen can tilt back to around 150 degrees slightly over the back of the casing so no ports there.
The viewable screen is 34.5x19.5cm this is clear and sharp apart from when you have direct sunlight immediately behind when – as with most notebooks – the screen becomes horribly reflective almost like a mirror.
There is a 104 key keyboard where all the alpha and numeric keys are fullsize with a 2mm gap around them. There is a 5cm strip behind the keyboard that has the on/off switch and adequate speakers. There is an 8cm strip in front of the keyboard. The trackpad is placed 9cm from the left and 20cm from the right, it is 9x4.7cm with a 1.5deep button bar in front of it.
The processor is an Intel Quad Core i3 2330m processor with 4GB of DDR3 RAM and Intel 3000 HD graphics.
The Toshiba hard disk is described as 750GB but only 683GB is visible this is in a single partition with a single drive letter.
The software supplied installed is Microsoft Windows Home Premium 64bit version and the basic Microsoft Office (Word and Excel) with adverts. You also get a number of Acer utilities including Backup and Clear – Fi their mobile sharing tools. As with most notebooks there is a built in webcam and its surprising how many provide no software for this however Acer do with their Crystal Eye software. Other software for use with the DVD unit supplied.
As with almost all units there is also trial software a range of games and of course the near obligatory McAfee security software.
The Windows Experience Software score is a rather unflattering 4.3 made up of Processor 6.5, Memory 5.9, Graphics 4.3, Gaming Graphics 6.0 and Hard Disc 5.9. I am never sure why graphics and gaming graphics are not combined.
I found this handled everything speedily and never had any nasty pauses during operation. I used it on batteries and mains. A recharge from full discharge was just over two hours. My normal use with a fair amount of wireless use gave a tad under of five hours on a full battery.
Boot up was a very acceptable 40 seconds while shutdown from Desktop was again fine at 12 seconds. As always when these units come in there are lots of updates to do and normally these take a couple of hours with several reboots and during this time both startup and shutdown times are increased.
I normally try to review some more demanding software not designed specifically for the hardware and of this occasion it was the rather nice ArtRage Studio Pro software that you should see a review for in a few days.
Doing my searches found the Acer Aspire 5749 at £387.98 with free delivery from the first link below.
http://www.box.co.uk/Acer_Aspire_5749_1114407.html