Two different timepieces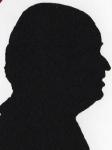 The first is a conventional watch with a plus that it can also be used as a Wi-Fi finder. The second is perhaps a clock that is a talking point more than something to tell the time but it does that as well.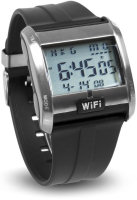 Wi-Fi Finder Watch
The instruction manual calls it rather grandly an Alarm Chronograph Module. Well I suppose it is as it can be used as a countdown timer, Chrono Timer, Regular Watch with Calendar, Alarm Mode and by pressing a button at the base of the face finds any Wi-Fi networks in range.
The watch is 3.8x4.2x1.5cm and comes with a fitted rubberised strap. Turn the watch over and it says it is waterproof to 100metres that fact I did not check.
I have used this watch for several weeks and it has kept perfect time. There are four buttons two on each side to set and enter the various modes.
The instructions talk about S1, S2, S3 and S4 and when you work out which one is which then entering and using all the functions (did I mention it has a World Time Zone Mode) however the only diagram that says which is which also has lots of other information on it and I had looked at this diagram several times before I saw S1 was top right, S2 bottom right, S3 top left and S4 bottom left. While the instruction manual (sheet) is in English it is made up of 60 illustrations with a minimal amount of text.
If you look very closely at the chrome style case you will see a word etched into the case near each button. ST/STP, Reset, Mode and Set/EL. While they can be worked out when you know what you are doing before that they just confuse.
The main reason I suppose for buying this watch is for the wi-fi finder as there are thousands of different watches that do most or not all of the other functions and are probably easier to set.
The Wi-Fi works when you press the button it scans around and returns the number of wi-fi networks in the area. It does not give any more information than that. Available from the link below at £19.99
http://www.iwantoneofthose.com/wifi-watch/index.html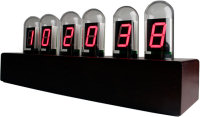 USB Tube Clock
This item will always get a comment as it looks so retro, I have had it running for ten days and it seems to keep perfect time. It consists of a wooden base with what look like six values in three pairs of two jutting out of the top.
It is 28x7.5x10.5cm you need to add another 3.5cm to the middle figure the depth for the USB power plug to be inserted in the rear.
Each one of the plastic tubes displays a number between 0 and nine, the first pair are the hours, the second pair the minutes and the last pair the seconds. Each one of the images are made up of an '8' shape with the parts of the '8' required to make the part required lighted in red.
The beauty is it looks very 1980 but is of course brand new. Apart from the USB connection on the back there are five push buttons to control it should you need to set it. As long as it has power it will work but should you have a power cut then it will need resetting, unlike the previous item it is very clear what button does what.
Available from the link below for $70US plus $3US for shipping anywhere in the world. Ideal to go onto any executive's desk as everyone you has seen it during my testing period has commented on it. At the current exchange rate that is around £41.
http://usb.brando.com.hk/prod_detail.php?prod_id=00530