Android from Acer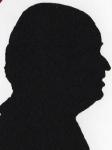 Review controls
The other Tablets I have looked at recently have had v2.2 of the Android system; the Acer Iconia TAB A500 has v3.1. So what can this unit offer that the others cannot, so what does this have that the other units do not have in them?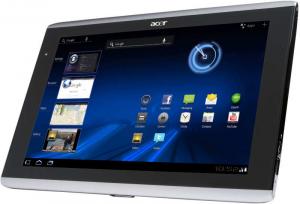 click image to enlarge
The Acer Iconia TAB A500 measures 26x17.5x1cm and weights 760grams. It has both Wi-Fi and Bluetooth.
The box contains the A500 Tablet, a small user guide, a mini USB to USB lead and a power adapter to charge it.
The base has a Docking Port (I did not see the dock itself which is an extra). The left side has a micro HDMI port, headphone/earbud 3.5mm socket and the on/off button this needs to be held for around five seconds to switch on.
The top has a volume rocker button, screen rotation lock control and a door behind which you can insert a micro SD card. The right side has DC input point, micro USB socket (slave), USB socket (host) and a reset button.
The screen is totally touch controlled the viewable size is 21.7x13.5cm this has an imperial diagonal measurement of 10.1inches. The front has a 2MP camera built into the left side and the rear has 5MP camera with LED flash.
The first difference I noticed was that most earlier (2.2 versions) used a slide up motion to unlock this uses a circular one.
The home screen has a horizontal line of icons, clear.fi, eReading, Games, Multimedia, Social and Market. Anything you get from the Market will form vertical column (or columns) of icons starting on the left of the screen.
The top of the screen has a Google magnifying glass a sound icon, apps icon and a plus sign. Below this the time and the date. Towards the base of the screen there is a black line with a line of icons in grey (rather than white).
By default the screen will blank after two minutes of inactivity, pressing the apps icon reveals not only the icons shown on the home screen but others either not shown on the home screen like the camera or those that are within other icons. The home screen is the centre one of five actual screens allowing you to place things in groups.
The USB (host) allows you to connect a range of things like a USB keyboard however the onscreen one is very quick and responsive and as you are unlikely to type a novel on it I was more than happy with the onscreen option.
Videos, photos or music can either be on USB devices and read by inbuilt apps or stored on the A500 with a micro SD card.
When connected to a Wi-Fi network I found Internet connection swift and efficient and while it happily shows a full width of page in a perfectly readable size without any zooming required you will certainly do a lot of scrolling down. However if you eyesight is good click the rotation lock button and view a good page in portrait mode. I suggest reapplying the lock to stop it switching back if you are out and about as some movements can cause the screen to rotate, I also found this when holding the device, but the screen lock stops this. With my less than perfect sight I could read a full page article in quite small type 30cm away without problem.
I found the inbuilt speaker ok in a quiet room but certainly when out and about use headphones/earbuds for both your and others sake. Battery life depends on how much both wireless and especially Bluetooth are turned on but a good day of normal use should be possible.
The Acer Iconia TAB A500 is available from the link below for £349.97 including delivery.
http://www.saveonlaptops.co.uk/Acer_Iconia_Tab_A500_1065984.html
http://www.acer.co.uk/ac/en/GB/content/model/XE.H6LEN.005 this link includes specifications.