Mini Wireless Adapter and Mini Wireless Keyboard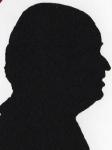 The connection between these items is of course no cable as they are both wireless. The first to give a non wireless PC that capability, and the second to enable devices such as a PDA or phone without a keyboard simular.
Conceptronic 150n Mini Wireless USB Adapter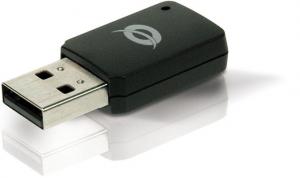 The vast majority of modern laptops have wireless. But there are still many PC's that don't. Here a USB adapter that updates them.
It is small at 3.3x1.5x.5cm, in fact once inserted in a USB port only 2cm of it sticks out. The makers Conceptronic say 'it is 3x faster and has 6x better range than an 802.11g device'.
I have my work PC that runs Windows XP with not a lot of memory, this does not have wireless so normally connects via an Ethernet card (yes no built in Ethernet either) and sticking in the USB adapter soon had me online and working as if I was connected via Ethernet.
On first switch on it does take a little longer to find the modem/router but not greatly so. I suspect most would not notice.
Assuming you have an 'N' network you could be connecting at up to 150mbps. If you have a 'G' network then 54mbps or 'B' at 11mbps. Of course all those figures are possible but I doubt many will actually get them. The speeds given however are shown to give an idea of speeds possible hence the claim above of 'N' being 3x faster than 'G'.
As for the range claim you would need to operate a 'N' and a 'G' network to see how far away you could get reliable communications.
The Conceptronic 150n Mini Wireless USB Adapter (C150RUSM) is available for £19.09 from the link.
http://www.amazon.co.uk/gp/product/B003CZ26O8?ie=UTF8&tag=gadge0a-21&linkCode=as2&camp=1634
www.conceptronic.net/Site/desktopdefault.aspx?tabindex=1&tabid=222&cid=20&gid=2035&pid=C150RUSM
Rii mini Bluetooth Keyboard with Trackpad
So you have a small Bluetooth device but it does not have a full keypad that is just one of the scenarios where this device could be of use. Not only is it a keyboard but it also has a built in pad to allow screen movement.
It is 15x5.5x1cm and the weight is 96grams. The weight is important if you travel around on public transport a lot.
It has 67 keys and this includes all the alpha and numeric keys also F1 to F8 so while no one could touch type on it you could work up a reasonable speed with two thumbs, certainly it beats using a phone keypad by a mile.
It can also be used as a 'Presenter' with far more functionality than a mouse and a laser pointer can give combined. Yes for those occasions when a laser pointer is required this unit has one built into it for ease of use.
For those using it in poor light - a darkened lecture theatre for instance - it has built in lights to allow you to see what you are doing.
The link below has a video to show and explain this unit.
The built in solid battery recharges by USB and dependant on usage it will last for up to one month between charges.
Available from the link below for $62 plus $3 p&p whatever the size of your order.
http://usb.brando.com/rii-mini-bluetooth-keyboard-with-touchpad_p01765c036d15.html