Belkin Play Max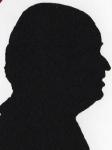 Review controls
I had just installed this on my test system when my own modem/router decided to pop its clogs. So what would have been a 'test' suddenly became real life with my day to day communications relaying on the Play Max.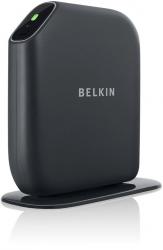 click image to enlarge
It is 19x16x3cm and sits on a 18x5cm base that raises the vertical unit .5cm from the desk but as cables protrude 3cm from the back its really 19x19x5cm for its overall footprint. There is a small angle cut from the front edge that has a large green (or orange) LED and a single push button, these are the only controls on the unit.
The whole system is sold on ease of installation and as leads come attached the three point install is exactly that.
You need to know only two things your ISP username and your password. No other questions are asked but as it finds out everything else for itself the installation is not exactly that quick but you only need to know its progressing. If you know other things then the web interface offered by most other modem/routers is a quicker process.
The installation will also install a range of applets and the Belkin method of print sharing requires you to only install the printer software on any PCs or Notebooks that you may want to print from as the printer connects to a USB port on the router.
Once you have connected the dangling phone socket lead from the back of the modem router you only need to plug in the power lead and you are ready to go. You are pointed to a small card stuck to the side that has the modem router name and wireless passcode on it. Once done you are prompted to slide it under the unit. Hardly high security but it does insure that your wireless signal is immediately protected from the moment you first connect.
You are supplied with a short Ethernet cable (1.2metres) and this goes into the back of your PC or notebook with the other end going to the back of the modem/router. There are three further ports as well as two USB ports.
To get the full ability of this Modem/Router you need to install the software on all the PCs/notebooks that you connect to it. However if the connection is Ethernet you will have a connection as soon as the cable is plugged in for any subsequent unit.
For Wireless you will need to enter the passcode from the card when asked for it. Stated connection speeds are of course a figure that probably will not be achievable. A standard 'b' connection could give up to 11mbps. For 'a' and or 'g' up to 54mbps. This unit is N+N which is simultaneous dual band and in theory gives 300mbps.
For Ethernet my normal non Belkin modem router gives an average stated download speed of 5200 while my tests with the Belkin give around 5700 now in mean terms that is approx 10% faster downloads. When used on wireless things seem to be faster but as I never ran the download tests on a wireless connection I have nothing concrete to test them against. In the latter part of its life – easy to say with hindsight – I got a lot of dropped lines. So far with the Belkin all downloads and updates have been made without any of these problems.
According to the box there are four modem/routers in the range 'surf', 'share', 'play' and this one the 'playmax'. For what you do and don't get with each unit check out the Belkin site for all the available details.
Doing my Internet searches found the Belkin PlayMax F7D44D1uk Modem/Router at a best price of £110.60 including free delivery from the first link below.
http://www.amazon.co.uk/gp/product/B003GALT74?ie=UTF8&tag=gadge0a-21&linkCode=as2&camp=1634