LinkSys Media Hub NMH405

Published 17 Sep 2009 Author
petew
This natty device aims to provide your home computers with safe storage for important documents and a central store for shared media files.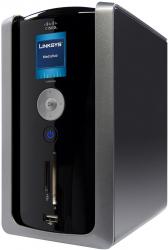 click image to enlarge
I've reviewed a number of home network attach storage (NAS) products over the last couple of years that have promised much and delivered rather less. The Media Hub from Linksys, a division of networking giant Cisco, has focussed on delivering a robust, reliable product with a good core feature set. The focus is on simplicity and ease of use - a product that sits there quietly in the corner looking after your data!
The Media Hub measures 11.1 x 19.8 x 16.8 cm (WxHxD). The front of the enclosure features an on/off switch a small, colour LCD panel with navigation and control switches, a standard USB 2.0 socket and a memory card slot. You can use any of the following card types : CompactFlash, Memory Stick®, Memory Stick Pro®, miniSD™, SD™, xD-PictureCard™ and MultiMediaCard v3.31.
The top of the device can be removed to provide access to two 5.25" drive bays. Each bay will accept a standard SATA drive. The review unit is supplied with a single 500Gbyte hard disk. You can alternatively buy the NMH410 which comes with a single 1TBytes drive. You can add a second drive to the spare bay yourself. With both drives installed you have the option of either space (RAID0) or data reliability (RAID1). In the latter case the software within the product maintains a copy of the data on both drives so that should either fail there would be no loss of data. Unfortunately with just a single drive I was unable to test the RAID1 configuration.
The rear of the device provides a cooling vent for the internal fan along with a second USB 2.0 socket and a standard wired Ethernet socket that can operate at 10, 100 or 1000Mbps speeds. This product only operates on a network and so unlike other products this cannot connect directly to a computer via USB or e-SATA. There are pros (simplicity) and cons (data transfer speed) to this approach. Performance in theory would be very good across a 1000Mbps network - but you're very unlikely to find a home network operating at anything higher than 10-50Mbps.
In the box with the Media Hub you're also provided with a manual, quick-start CD ROM, power supply and a Cat-5 Ethernet cable. The manual looks fairly impressive however there are only 17 pages of instructions in English which comprise mainly of screen-grabs from the included software package. While I'd criticise this on other products the Media Hub really doesn't need a lot of instruction (simplicity again!). I would have liked some mention of using a second disk for reliability and even an encouragement that people do this.
To use the Media Hub you insert the CD into your Windows computer and follow the instructions provided in the set-up programme. You'll need to connect your Media Hub to a wired Ethernet port - there is usually one on your Broadband Router. There's no support in the software for Apple Macs, Linux or other operating systems.
Software
The Media Hub can be used without installing the software in which case it appears on your home network as a separate computer with a shared drive and you can of course manually copy your important files to that disk or use any third party backup applications. The software provided with the Media Hub will however do all this for you and in a much better way than other software I've used. Automated backups for data can be made via an application called NTI Shadow and an import utility for media files (MP3, video etc) via Media Importer.
NTI Shadow allows you to define an area on your computer that you need to have backed up. You can define multiple areas and how often your want the software to do the synchonisation for you : only when you ask; every time you make a change; every few minutes; once a day at a certain time. Archived data is only available to your machine.
Media Importer will search out content files and copy those to the Media Hub in much the same way as NTI shadow, except the content is then available to all machines on your network. A great way of having a single store of MP3 tracks rather than a few on each machine!
I have a lot of music on my computer and this does highlight on of the problems with home-based network attached storage. The maximum transfer speed I could get across my home network was about 500KB/second. My 10G bytes of data took a number of days to transfer. Many wireless networks could be slower! This initial transfer is however a one-off, the software didn't noticeably affect computer or internet performance and was happy to start and stop as I closed my computer down at the end of each night. I would suggest only connecting one computer at a time though.
Accessing your media
You can of course simply access your media via the shared drive (which the software thoughtfully configures for you).
Part of the configuration also sets up your web-browser so you can type "http://mediahub" into your address bar and you're taken to a Macromedia Flash application that lets you manage your media hub and directly access your media files. you can play music, browse photos through a slide show or watch video directly from this application. I did have a few problems with this application and is probably the weakest part of the product. Notably all my photos only displayed the top half!
USB
The Media Hub has two USB 2.0 ports - one on the front and one on the rear. You can connect memory sticks or hard-disks to these. I connected both a 1G byte Kensington memory stick and an 80GB external hard-disk. These were both handled very nicely. I particularly liked the way these appeared as folders of the single shared drive. Very easy to use.
Summary
This is one of the fairly rare well designed media storage and backup units that I've looked at recently. Coupled with a second disk and RAID1 enabled you'll have a reliable data store both for sharing your media files and making effortless backups of your important file areas - without having to remember to so do.
The software worked well, was intuitive and Linksys have tried hard to avoid feature bloat with the attendent complexity that invariably brings.
Be aware that with all these network attach storage systems for the home the limiting factor is likely to be your home network. This should become less of an issue with time with faster wireless technologies.
The 500GB version I've been reviewing is available for £193.71 from Amazon and the 1TB version for £257.16, both including shipping. The Amazon site also has a short video so you can get a feel for the system. Given an additional 500G hard disk can be added for around £37 this makes for a very good value RAID-1 backup system.