Acer Aspire Revo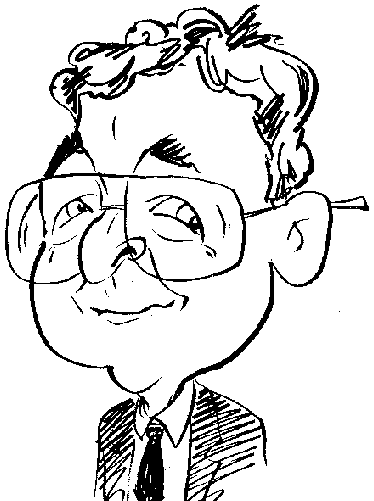 Not everybody needs a full featured notebook and so the netbook was developed. In the same way not everybody needs a high end desktop computer.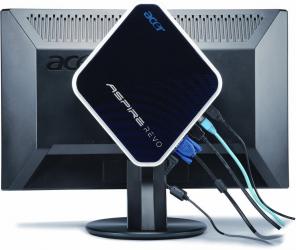 Adding to its impressive range of products, Acer has developed the Aspire Revo product which is based on the Intel Atom CPU 230 running at 1.60GHz. As a netbook is a king of notebook sub-species, so the Revo could be regarded as a sub-species of your desktop system. In other words the Aspire Revo falls into the category as a small, low powered desktop unit known as a Nettop.
Tastefully decked out in white and a blue that is so dark it is almost black, this parallelogram shaped device, with rounded corners, has dimensions of 180 x 180 x 30mm (L x H x W). One of the corners of the unit is sloping and this acts as the on/off switch. I have to admit that this switch was not the most responsive and it often took a number of presses before there was a positive reaction.
You can lay the Revo flat on your workspace, stand it upright or attach it to the rear of the display. However the accessories that allow you to stand the Revo upright or attach it to the display were not included with the review unit. As a result I have no idea as to how effective either of these options are and how easy they would be to set up. Hobson's choice meant I opted for laying the Revo flat.
What was included with the Revo and mains power lead, as sent to me, were a keyboard and wheeled mouse. Both these items were of the tethered variety. Constructed of white plastic, neither item gave the impression that they would be sturdy enough to withstand heavy use. While the mouse was reasonable, the keyboard, which opts for the reduced style of layout favoured by notebooks, felt particularly lightweight and fragile. In many cases I should imagine that users will quickly replace both units with something more substantial and possibly with wireless functionality.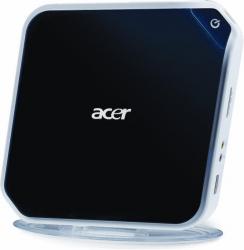 click image to enlarge
The Revo is particularly well served with its array of connection sockets, possibly to help detract from the lack of an optical drive. It is hard to know which side of the Revo should be regarded as the front. If you opt to have the Acer logo the right way up as I did then the corner featuring the on/off switch will be located at the right rear corner. This arrangement then gives you sockets for eSATA, headphones and microphone plus memory card reader (support for MMC, SD, xD and Memory Stick) along the right side. Running along the left side are power, VGA, HDMI, Ethernet and four USB ports. Located at the rear is an additional USB port which I opted to use for a USB wireless receiver for the keyboard and mouse that quickly replaced those that were supplied.
As mentioned earlier, the Revo features an Intel Atom CPU running at 1.60GHz. While this processor is adequate for general purpose use, it fails to hit the spot with regards to graphics performance. To get round this problem, Acer has incorporated the NVIDIA ION graphics chipset which features the 9400M graphics technology. The presence of the NVIDIA element allows you to use the Revo for movie playback. You will, of course, need to gain access to the necessary CODECS and video files via an external connection such as an optical drive or Internet connection. The Revo has built-in Wireless LAN 802.11 b/g/Draft-N technology. Using an external hard drive for the source material, I was able to watch a number of video clips that ran without any problems. Various casual-style games also performed well but more hard-core titles proved to be a step too far unless frame rate, settings and resolution were reduced in some cases substantially.
As reviewed the Acer Aspire Revo came with a 160GB hard drive and 2GB DDR2 667 MHz SDRAM. While there is a version available running Linux, the review sample was running Windows Vista Home Premium. Microsoft Office 2007 (Trial) with Microsoft Works 8.51, McAfee Internet Security Suite 2009 (Trial) and Adobe Reader are supplied are standard.
Priced at around £250, the Acer Aspire Revo is setting the standard for other nettops. While it can not really complete with your standard desktop machine or media centre system, it does offer some useful functionality within a small frame format and would not look out of place in the living room.