MSI PR210 12inch Widescreen Notebook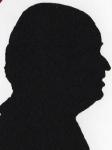 If you are looking for a notebook to travel around with you – unless someone else carries it for you – then you certainly do not want one with a 15inch or 17inch display.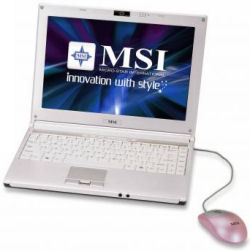 This is one with a 12.1 inch display and it comes in a variety of colours something that may bring favour with the ladies. I believe there is a pink one - luckily I was not sent it - I also remember green and blue. Mine was a sky blue offering. I am afraid I have to be a little vague as I have a pre production sample and certain drivers were missing as I assume was some of the software.
However this review should appear close to the launch and I am sure their site will have exact details of the models available and prices. I am told there will be two versions the one I was sent with Vista Basic and 1GB of memory at around £499 and one with a higher version of Vista and 2GB of memory and also a larger hard disc.
It is 30x25x4cm and weights a few grams over two kilos. The top is sky blue with silver grey sides and black base and battery. The screen surround is 30x21cm with the actual visible screen size being26x16.5cm giving the 12.1inch diagonal measurement.
It has the latest AMD chip the Turion 64 x2 processor shown as TK-55 a 1.80GHz unit. The hard disc supplied in my unit was 106GB split more or less down the middle between 'C' and 'D'. As this is Vista the five performance figures are quoted. Processor is 4.7, Memory is 3.9, Graphics is 3.1 as are Gaming Graphics and the hard drive is 4.9. Windows always states the performance 'base score' as the lowest figure so this is 3.1 and that's reasonable for a unit without a dedicated graphics card. The amount of the 1GB memory available is 895MB so 129MB seems to be used for graphics.
The keyboard is an 87 key offering sitting the full width of the unit and starting 2cm from the back and finishing 8cm from the front. I am quite happy using a trackpad and the one here is 6x4.5 and quite responsive. There is a fingerprint reader mounted between the left and right mouse buttons. However I know plenty of people who hate them and MSI provide a mouse for you if this is you. Behind the keyboard are three silvered buttons and three LED's as well as a silvered on/off button that glows blue when the unit is powered on. To the left and right of these are two adequate speakers.
The front had four LED's on the right front edge together with microphone and ear bud sockets. The top of the screen has a 1.2mega pixel web cam and microphone (both not working for lack of drivers in my sample). The left side has a USB2 socket as well as VGA and Ethernet and the Multi DVD reader/writer drive. The right side has and SD card reader, PCI Express slot, modem port, two further USB2 sockets, an HDMI socket and an unidentified socket looking like a tiny coaxial socket (the specs I have seen talk of a TV card but not in my unit), finally the power adapter socket. In my tests the battery lasted around 210 minutes and this was with a variety of uses including the DVD drive and Internet connectivity. Recharge took around 160 minutes.
The unit is meant to have wireless (as well as the Ethernet) but again this was not working on my model until I used the ZyXEL USB stick again lack of a driver I assume.
I found boot up varied between 90 and 180 seconds - I never found out why - and shutdown was around 30 seconds again not startling figures but I dare say both these will improve on production units. The software I had was a 90 day version of Norton Security Suite and a 60 day version of Microsoft Office. There were three CD's in the box External Recovery Media for Windows Vista, Cyber Link DVD and a drivers and utilities CD that includes the manual in PDF format. There was a getting stated sheet in the box.
I will not be giving any ratings as there were missing drivers and I do not know if this unit is meant to have a TV card. I was happy with what I did with this notebook but would need to see a production unit with all the software and drivers to rate it.
http://www.amazon.co.uk/gp/product/B000ZLNXSA
http://global.msi.com.tw/index.php?func=proddesc&prod_no=1209