Logitech QuickCam Pro 9000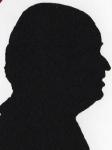 This is far more than an average web cam, to start with it's 2mega pixel and it has a Carl Zeiss lens. It works well in poor light and it has a great auto focus capability.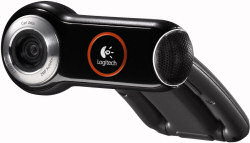 The camera is quite small it can sit on top of a monitor, clip over a panel or even clip over a note. However they do an either smaller model (with the same 2MP resolution) especially for notebooks that I hope to tell you about later in the year.
It is 10cm long between 3cm and 4cm (at the lens end) wide and around 3cm deep if you ignore the gripping arm that swivels to different combinations to suit monitors, panels or notebooks. There is a 1.8 metre USB lead thus enabling the camera to be a fair way from the USB connection.
Unlike most web cams this is also a microphone and it works with your speakers so could easily be used for Skype or other services that offer video and audio.
Without any software installation the camera is recognised and added as a USB device so you can acquire images into a suitable package.
The software is worth installing as it has a number of excellent features that I will cover in a bit, however there is one drawback for Windows XP users you have to have SP2 as it will not install under the original XP. Looking at the box it says Windows XP Pentium 4 1.4GHz and 128MB RAM as minimum specifications but nowhere do I see the requirement to have SP2 installed. It also mentions that it recommends you have twice as fast a processor and twice as much RAM but still no mention of SP2. For Vista you need a Pentium 4 2.4GHz and 512MB of RAM again the recommendations are nearly double the minimum listed. It is stated to work with either USB1.1 or USB2.
The software install took around ten minutes which includes an elongated reboot where you are left with a blank screen for around a minute after the reboot and even when your icons return it is probably at least a minute more before the install continues. At this point you attach the camera and then you tune it to your speakers and microphone, by default it selects your sound card and microphone (should you have them) so you need to change to the Logitech cameras microphone if you are using that.
If you had originally played with the camera before installing the software the size and quality of the image you see now is not only better - brighter and clearer - but also substantially larger.
The main components of the software are a mini panel that you can move round the screen to give quick access to some special effects.
Face Tracker is a technology that I have recently come across on some digital cameras where if what you are looking at moves so does the camera to keep the person centred in the image. Of course this works only within short distances but it gives the impression to the viewer that someone is controlling the static camera.
An option you clicked (or not) during the final setup is RightLight Technology that gives a good image in most lighting conditions. The Quick Cam software allows images to be manipulated and for instance glasses or a hat to be put on a persons head. Video effects works well with video images the default for these is 320x240 ideal for web transmission.
This is more than a web cam the built in microphone gives excellent quality and the image sizes are way ahead of a normal web cam. The one drawback - slap on the wrist for Logitech - is that you need XP SP2 not because you need it but because the box does not say it.
Doing my Internet searches found the QuickCam Pro 9000 for a best price of £49.99 including free delivery from the first link below.
http://www.amazon.co.uk/gp/product/B000T5GMJE
http://www.logitech.com/index.cfm/webcam_communications/webcams/devices/3056&cl=gb,en