Yego EZ Drive 2GB USB Stick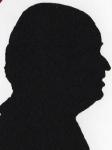 This device shaped like a letter 'Y' is a two port USB hub but – and here's the difference - it is also a 2GB stick/pen drive, so data can be stored on it from the PC or from the devices you connect to the Yego.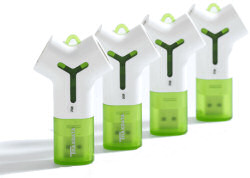 It is 8cm in length a maximum of 4cm wide at the top of the 'Y' and only 1.5cm wide. The one I saw was green and white and with a green LED in the shape of the 'Y' when connected.
It has a small connecter in the trough of the 'Y' to allow attaching to a keyring. So a device only slightly larger than a pen/stick drive has a second use as a USB stick.
Memory gets smaller and cheaper but here it has a second use. I found that it was quickly read as a USB2 device with a window opening with any contents a lot quicker than with a lot of such pen/stick drives. Lets assume that the Yego and it's contents are 'F' the first device plugged into the 'Y' end becomes 'G' whichever side of the 'Y' it is plugged into. In fact should you disconnect it and plug it into the other side of the 'Y' it is still 'G'. If you then plug a second device into the other branch this becomes 'H' and this could be a problem should you wish to copy files from 'G' to 'H'. The easiest way is to name your pen/stick drives, right click on it in My Computer and go to properties and on the screen that gives you the details of memory used and available click on the name (normally blank) and call it some memorable name say 'Susan' or 'Memos' and when you next look in My Computer it will still be 'G' but shown as 'Susan G'. So the letter becomes less important.
This is marketed by a branch of a company named Traxdata who produce a huge number of CD's and DVD's but are not necessarily as well know as Verbatim or Memorex. Traxdata also produce other such things as card readers and I have been sent one of these devices not much larger than some of the cards it supports.
It is white and 6x6cm and around 1.5cm thick. Three of the sides have entries for cards of most types, in fact the bottom has no less than three types in two slots. The top has a micro USB for the supplied .75metre micro USB to USB lead to attach to any USB port. The face has two LED's a red one to denote power and a green one beside it to say when a card is inserted.
As with all these multi card devices do not insert two cards at the same time. My Computer will show it as four drive letters but only one can be read at a time. There is one omission it cannot read 'xD' cards natively. There are a number of adapters out there to convert 'xD' to other formats but why for one of the most popular standards.
The card types supported are Compact Flash types I and II as well as Micro Drives. Secure Digital, miniSD, microSD, MMC, MMCmobile, MMCmicro, RS-MMC, SmartMedia, and four varieties of Memory Stick.
I was told that the likely price of the Yego will be around £20, no doubt in the coming months the media and the card reader will be appearing in one or more of the large chains but until then the independents have the field to themselves with this first of it's kind device.
It should work for all Windows from ME onwards, to work with Windows 98SE you can download a driver from www.traxdata.com/drivers. Should you own a MAC OS 8.6, 9.x or 10.x should accept it and even Linux Kernels 2.4 or above.
or for a current list of UK suppliers http://www.traxdata.com/unitedkingdom.html