HP Compaq NX6325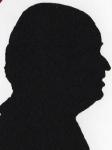 Yes the title is right, as some may know HP now own Compaq and whilst new models come out they are badged HP even though the identity says Compaq NX6325.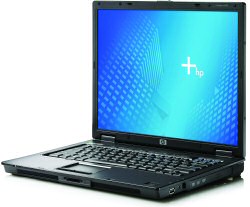 First the size, it is 32.5x26x4cm and weights 2.8kilos. The screen is 30.5x23cm giving the notional 15inch screen size.
The left side has LAN port, VGA outlet, 2xUSB2 ports, microphone and headset outputs and PCMCIA and PC Express slots. The front has four small LED's and a single card slot that accepts probably the five most popular card types, SD/MMC/XD/SmartMedia and Memory Stick. The main one missing is Compact Flash/Micro Drive. The right side has a further USB port, a four pin FireWire port and modem port as well as the DVD/CD this is a LightScribe device. The rear has only the input for the DC adapter and the S-Video socket.
It has an 85 key keyboard with 66 keys full size and another six buttons as well as the on/off standby return button and two LED's behind the keyboard. The screen is SXGA at 1400x1050 and although characters are small they are sharp and readable.
It has an AMD Turion chip and while in normal - non demanding work - it was fine you certainly could not watch a DVD on batteries - lots of frame dropping - and the boot up was an unspectacular 80 seconds while the shutdown from no open applications took 40 seconds. This might encourage you to use standby and should you shut the lid it goes quickly to this state and return to your password took only 5 seconds.
This unit comes with a built in fingerprint reader and this in part is probably responsible for the increase in boot time as this module has to load first.
Doing a reasonable about of LAN use as well as some access to the DVD/CD drive produced a far from amazing 150 minutes from full charge to screaming at you to connect the mains. I did get better but only in light use with mainly word processing and other non drive access tasks.
Most HP units seem to ship with Norton Internet Security and your fist job has to upgrading this as it is very demanding in its requests to do so. I found this has improved somewhat in the time to update down to around 20 minutes and only one reboot required, mind you that was on a 1GB network connection.
This unit ships with 1GB of RAM (896MB) available with the other 128MB used by the ATI graphics card. The system properties tells me it's a AMD Turion 64 X2 Mobile Technology TL-60 running at 1.99GHz. I assume the hard disc is 80GB as the 'C' drive is just over 70GB and the recovery partition just over 7GB. The only extra software I could find were some utilities provided by Sonic and some DVD software.
Looking at HP's site I find there are three models with the NX6325 badge, as both the others have 1.6GHz processors and 512MB of RAM this has to be the top of the range unit with a ball park price of £749 + VAT this is sold as a business unit so prices are shown before VAT that's around £880.
Doing my Internet searches found it at a best price of £672.99 including VAT from the first link below.
http://www.dabs.com/productview.aspx?Quicklinx=43J7

http://h10010.www1.hp.com/wwpc/uk/en/sm/WF06b/21675-283229-283229-283229-12434650-12433938-77176759.html