Grundig Fridge Freezer GKN16820W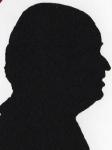 Here is one of my occasional forays into large kitchen items. This time an offering from Dixons a Grundig Fridge Freezer. This is quite large so should certainly suit a family as far as the fridge is concerned; it's what is called 60/40.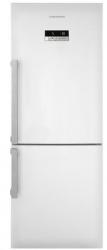 click image to enlarge
First the all-important dimensions, its 1.85metres tall, 66cm deep and 59cm wide, you should allow at least another 4cm clear behind to allow free air flow.
I will deal with the '40' first the freezer. Whenever I review a fridge freezer I take the opportunity to defrost my own freezer, this has 6½ drawers but they are not that deep. This unit from Grundig has 3 drawers but they are large. My freezer was around 85-90% full and everything apart from a loaf of sliced bread and a chicken fitted – with a squeeze - into the Grundig so it is quite spacious, but of course you do need to be neat as with only three drawers your storage must be thought out.
The fridge can help as it has a chiller drawer which can take things part the way to frozen without having to affect the freezer at all.
Now on to the '60' the fridge it is stated as 252litres or 8.89cubic feet but those are gross figures and the actual figures are 219litres or 7.7cubic feet. Neither mean a great deal to me but when you look at it empty it is huge and my own fridge is not that small but I concede that say a family of four would struggle with my fridge but the Grundig has plenty of room.
The default setting for the fridge temperature is 5degrees. But you can raise or lower this in 1degree increments to anything between 2-8 degrees. The freeze defaults to -18degrees but this can be lowered to as little as -24 degrees again in 1degree increments. Both the fridge and freezer have an '*' energy save feature which can be turned on or off.
There is a line of six silvered buttons on the face of the unit about eye level with a long LED strip above it to show as much or as little information as you wish.
The inside of the fridge door has four adjustable shelves for bottles eggs and other such items. The inside of the fridge has three shelves with adjustment and below this two drawers the first is a crisper idea for salads etc and the second a chiller (this section is kept at 1 degree) ideal for items being cooled ready to go into the freezer. This is called the super-fresh zone.
There is a 24page User Manual which explains most things including the 'vacation mode' which needs the fridge part to have no fresh items as the temperature rises to 15degrees, this of course does not affect the freezer part.
The energy rating is 'A++' which until very recently was the best available. The stated annual energy consumption figures are 264kWh. The unit comes with a five year guarantee.
At the time of writing they will not only take away your old unit free of charge but this Grundig unit has a £150 discount for doing so.
The current price is £649.99 but if you scrap your old unit this reduces to £499.99.
http://www.currys.co.uk/gbuk/household-appliances/refrigeration/fridge-freezers/grundig-gkn16820w-fridge-freezer-white-21765499-pdt.html#longDesc