Samsung Smart Oven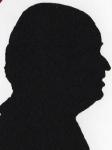 During the time I had this unit my own oven and grill remained unused. Often today with small flats/bedsits there is no real kitchen, people make do with a microwave but for little more than that size you can have the Samsung MC32F606TCT.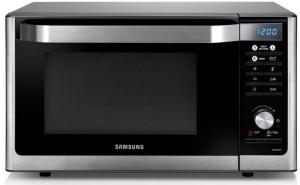 click image to enlarge
So what is this multiple unit, well it is a Microwave, an Oven, a Grill, a Convection Oven and for good measure it can ferment dough and even yogurt.
It is 52x47x29cm. The oven door opens downwards to form a flat surface in front of the oven which allows you to remove things to check the cooking process and turn items etc.
The oven itself is 33x34x20cm and this contains a circular glass turntable plate 33cm across. It can also accommodate a special plate when used as a conventional oven to get heat under things like pastry to prevent the dreaded 'soggy bottom' which for those who have not followed Great British Bake Off means the bottom of your pastry remains under cooked.
The unit also comes with two stands to allow more than one level of cooking to take place concurrently.
To the right of the oven door is a small 7x2.5cm multi display. When power is connected but the unit otherwise off it shows a clock but during use it shows other things.
Below this two columns of five well marked buttons, next a large circular multi purpose knob and finally two further buttons.
While – without a lot of planning – this could never cook a large family meal. It can easily cook a meal for one or two people with the aid of the provided stands.
As it looks like a microwave let's start with that, using the glass plate you can defrost or cook at between 100 and 900watts. This is efficient and fast.
As a conventional oven it works in the same way as larger units but the lack of size is partly compensated by the included stands. It works as you would expect an oven to work.
Slim Fry mode, yes this unit can fry food as well using the ten programs shown in the manual so you can have real fried chips – not oven chips – made in the oven.
It has a grill – yes a true grill – so those jobs that require a grill can still be done with this unit.
Smart Cook mode is something you can do using a combination of the units skills, it works and of course reduces the cooking time.
Microwave and Grill and Microwave and Convection are two other modes again read the manual to find out how they combine.
I am not a yogurt fan and while I have made bread the chance never arose during the test period so this feature was never utilised by me but I read how to do it and it seems easy enough.
The manual is only 40 pages but is packed with information to enable you to get the best out of this multiple unit. Other lesser units I have reviewed came with a cook book so that would be a useful addition as a lot of people using this would normally have used such a unit to reheat or defrost only.
The Samsung Smart Oven (MC32F606TCT) is available from the link below for £249.99 with free delivery.
http://www.amazon.co.uk/gp/product/B00DCG6INW?ie=UTF8&tag=gadge0a-21&linkCode=as2&camp=1634