Bosch Kettle and Toaster Combo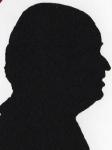 Although I own a Bosch fridge/freezer I tend to think of Bosch as a power tool company. So when I was invited to a recent event that featured vacuums, food processors, coffee machines and kettle and toaster combos it was a little bit of a surprise.

click image to enlarge
While these items can be purchased separately as they are either the cream colour I was sent or black they tend to be purchased as a pair.
Bosch Kettle
This is a round unit that takes its power from a flat stand that it sits on. The stand is round at 15cm and the power lead can be stored under it when not in use. It is .7metre long and is hard wired into the base, this means the kettle can be removed without having to unplug or remove any leads.
The kettle fits exactly on the stand as it is also rounded and the only protrusions are the handle that is a maximum of 7cm and the spout up to 1.5cm.
The kettle holds a maximum of 1.7litres of water and it has a Perspex grid on either side that shows the amount of water in it.
A button on the handle flips open the lid to allow water insertion and at the base of the handle a red flip switch to turn it on or off, this has an LED in it that glows when on. As with all kettles it will automatically turn off after a period of boiling.
I found it very fast boiling .5litre of water (two cups) takes only 50seconds. The handle and lid remain cool at all times while the sides of the kettle are slightly warm after a boil.
Unlike older kettles the inside has no exposed element to fur up only a stainless steel base plate.
The only thing to dislike about the Bosch Kettle is the price, but then quality never comes cheap.
The Bosch Kettle is available from the link below for £29.99
http://www.bosch-home.co.uk/store/product/TWK7607GB/TWK7607GB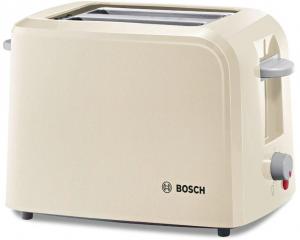 click image to enlarge
Bosch Toaster
The first thing I noticed about this toaster was that the area where you insert your bread was wider at 3cm; I checked both my toasters and they were far less at a maximum of 2.5cm. The Bosch was also slightly longer at 13cm. When I mentioned this at the event the Bosch representative said Germans like thicker bread. I certainly found it easier to toast things other than standard sliced bread. Muffins, crumpets, fruit breads all toasted without problem.
The main body is 24x17x15cm with end knobs protruding more than that. On the left is the circular browning control and a stop button. There is also the control to lower the bread into the unit, the right side looks to have a similar control but this raises bars either side by 3cm to support items placed on top, I am told this is to warm your buns.
I toasted a range of standard bread both medium and thick (UK thick) as well as other wider items that often need to be squeezed to fit. I also cut deliberately think slices of things like fruit loaves and everything toasted perfectly, on not one occasion was the smoke alarm set off.
This does tend to happen with cheaper toasters as things pop through the protective bars and therefore stop the mechanism shutting off.
I also toasted bread direct from the freezer without problem, in fact during my test period the toaster and the kettle above were the perfect combination.
I was surprised to hear at the event that the black was the more popular colour, I am no fashion icon nor am I that house proud but to me the cream colour looks good and they of course are a matching pair.
The Bosch Toaster is available from the link below for £29.99
While it is not normally possible to offer awards for two items in a single review these would both qualify for five smiles in four of the five categories the only exception being valve. But rules are made to be broken so I hope the Editor will accept my rating of Highly Commended for the Bosch Kettle and Toaster.
http://www.bosch-home.co.uk/store/product/Toaster/TAT3A017GB