Kitchen Scales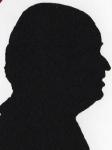 Review controls
A couple of weeks ago I told you about two sets of Bathroom 'personal' Scales. Here are two sets of Kitchen Scales both from Salter a neat single scale and second bearing the Heston Bloomatile name a jug that converts wet and dry weights.
ColourWeight Electronic Kitchen Scale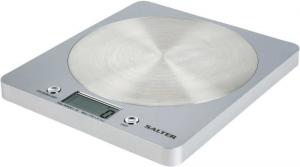 click image to enlarge
I am perhaps rather simple to please as this delights from looking at the box through to use. The first joy is that colour is spelt correctly, next the simple easy to use unit. The scale itself is a 14.5cm disc set into 15.5x18x1.5cm rectangle. I know they do a range of colours mine was a lime green but it is crisp and easy to read.
This may appear a simple test but after removing the plastic shield from the battery bay and placing it on a flat surface I place a small solid object on the centre of the scale remove it and place it towards the far edge and repeat this several times I am please to relate that on each occasion the weight read 79grams never 78 or 80.
There are two push buttons on the front edge one either side of the 4x1.7cm black on grey easy to read display.
The left button turns on, zeros and turns off, the right button changes the unit of measurement. There is a Instruction book and this also gives guidance to help when trying to convert between pints and litres as well as other advice on the single page of instructions in English.
The maximum weight it can weight is 5KG, 11LB, 5Litres or 175Fluid Ounces. Depending on which you are using the weight will increase in gram, .1ounce, 1ml or .1fl.oz measurements. It comes with a 15 year guarantee.
For the full range of Salter scales available go to www.salterhousewares.com.
The ColourWeight Electronic Kitchen Scale is available from the link below for £20.90 including p&p.
http://www.amazon.co.uk/gp/product/B005UL7XWC?ie=UTF8&tag=gadge0a-21&linkCode=as2&camp=1634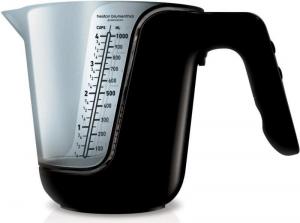 click image to enlarge
Heston Blumenthal Precision Digital Measuring Jug
To me this is something that can be achieved with a measuring jug, a scale and a degree in mathematics. While I got an O level in maths and I trained as a chef for two years I still struggle to convert certain measures so this offering bearing the Heston Blumenthal name but made by Salter is something to make your life easier.
On reading the Instructions I assume that this is only sold in Britain as unlike all the other multi language instructions I have seen for both Bathroom and Kitchen this leaflet is only printed in English, you still only get a single side.
The scale is integrated into the removable handle of the large measuring bowl/jug which detaches to enable easy cleaning. The bowl/jug is marked in cups and ml, the latter up to 1000 and the former up to 4. On the other side it is marked in pints and fluid ounces, up to 1¾ and 36 respectively. However you get far more assistance from the scale.
The controls are all on the scale handle, the 3x2cm black on grey display is on the top while there are three buttons down the arm, the lower one is on/off, a rocker button is above this marked m and u. Under the handle is a button to let you remove the bowl/jug.
Without getting technical it has five pre set ingredients water, milk, oil, flour and sugar and unlike other scales that measure weight this can take account of density as well and all the ingredients above have different densities.
Heston Blumenthal Precision Digital Measuring Jug is available from link below £34.99 with free delivery.
http://www.amazon.co.uk/gp/product/B004NNUUUK?ie=UTF8&tag=gadge0a-21&linkCode=as2&camp=1634