Tefal Stews Well

Tefal is well known for its kitchen ware but, if you buy it, are you just paying for a brand name? A test on stew pots from its Preference and Sensorielle non-stick ranges showed that they make it easier for the experienced cook and would probably enable the beginner to avoid disasters.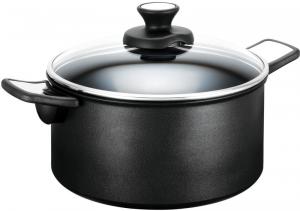 click image to enlarge
The pots were 24cm. This is a large size as the pots have a useable capacity of roughly 4 litres -- large enough to make a batch of soup for a fairly large family and yet could also be used for cooking far smaller quantities.
Although the internal non-stick surfaces look the same, externally they are quite different. The Preference has the traditional vertical sides with a matt finish, a heavy machined base and weighed 1.3kg. The Sensorielle was a stylish design which is pleasing to the eye. It has curved polished sides, the special Sensorielle design base and, at 900gm, was much lighter. They both had two handles and glass lids with adjustable steam vents. The handles, on both the bodies and the lids, were easy to hold even when they had been on the stove for more than two hours even though one had to take care to avoid the metal inserts in the Preference handles as they seemed to retain the heat.
Both came out very well in the tests. No oil or fat was needed in sweating the vegetables which is first step in making a good soup nor was it required to seal the meat at the start of making a stew. While both soup and stew then need prolonged cooking on a low heat, with the latter there is always the risk of sticking.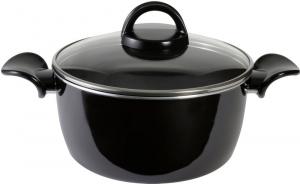 click image to enlarge
In fact, stirring does not appear to be necessary, and provided that sufficient liquid is present, it seems that one can just get it started and go away to do something else while it cooks, provided that the heat remains constant. With the vent closed, steam will not escape during protracted cooking, so that there was very little loss of liquid.
In all cases cooking was even and there didn't appear to be any hot-spots and the meat in the stew was tender and succulent after about three hours of slow simmering.
Either pot would be most acceptable to a dedicated cook, or a beginner who wants one that apparently looks after itself and is a good workmanlike tool. In both cases, if not abused, either one should give good service for many years well after an inferior pot has been discarded and are thus very good value for money. In fact, it is also worth considering other products in the range.
Overall, there was very little to choose between them in practical terms so that choice would really be dictated by personal inclination. My preference, even bearing mind the caveat regarding the handles, was the Preference 24cm stew pot. Priced at £46.98, this is available on Amazon at £38.34. The Sensorielle 24cm stew pot was listed on Amazon as well at £42.