Dremel Trio

Published Nov 27, 2010 Author
petew
Review controls
Known for their small precision craft drills Dremel have now introduced the Trio - similar is styling to a small hand-held router or electric jigsaw this versatile tool will cut, rout and sand.
Buy Now!
Dremel Trio
Available from B&Q
Priced £122.98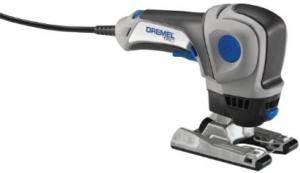 click image to enlarge
For those familiar with a standard DIY plunge-router the Dremel Trio will look very familiar. Rather than the usual two post sprung pillars Dremel have gone for a single unsprung post. This is intended to be used to set the depth of cut before use. Once the depth is selected a screw holds the post in the desired position.
Power is provided by a 200W motor with a variable speed control allowing you to select anything from 10,000 RPM through to 20,000 RPM.
The colette accepts 4.8mm accessories from the Dremel range. A cutter and a single router bit are provided along with a sanding post and a selection of 5 sanding bands. The shaft diameter is not the same as other Dremel tools and so at the moment the list of bits is very limted (you can see the available selection on the Dremel web-site).
Although looking somewhat like a jigsaw, the cutting function is actually achieved using a 'spiral cutter' using a special bit. Rather than travelling up and down this bit spins just like a drill but is designed to cut on the edges. This is again much like the action of a router. For precision craft applications this has the significant advantage over a jigsaw that it can change direction immediately allowing much finer detail to be achieved.
The router bit provided with the Trio is a straight cutter allowing vertical grooves to be driven into material. The only other two bits currently available are for creating a 45° chamfer and to create a rounded edge. Others doubtless will follow.
The sanding element will be familar to users of other Dremel products. A sanding post is placed into the chuck and a sanding 'band' slipped over the base. This allows edge sanding. Again there aren't many options available for this at the present time.
A provided 'guide' is easily attached to the base of the device allowing accurate straight grooves to be cut or for circles to be cut down to 10cm in diameter. The product is very suitable for cutting much smaller diameter circles although you'll need to create your own template.
A vacuum attachment is also provided that slots into the base of the unit and can be used to extract dust as you work. This is particularly important when working with fibre-board or other artificial materials that create very fine particles when cut. Unfortunately this attachment wouldn't fit the hose on my Dyson so you might want to check compatibility with your vacuum if this is going to be important to you.
The handle part of the Trio rotates through 90° which, when coupled with the ability to remove the foot, can allow access to some pretty awkward places.
A manual is provided with the Trio although this does only cover the basics of the product but it isn't very difficult to use and the best recommendation is to do plenty of practice on scrap material before you get too adventurous.
The Dremel Trio is a fine little product which I think will find many uses in the craft/precision arenas. It is let down a little by the availability of router bits right now but I'd expect this to change in future.
I found the Dremel Trio available for £122.98 from B&Q on the following link:
http://www.diy.com/diy/jsp/bq/nav.jsp?isSearch=true&fh_search=dremel+trio
Full details are available on the Dremel web-site.