Sodastream - Classic Fizzy Drink Maker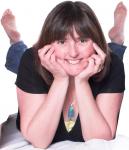 I remember well the adverts for Sodastream in my childhood, but only now do I have the pleasure of owning this remarkably handy soft drinks machine. It's fast become one of our favourite kitchen gadgets. As it says on the box SodaStream turns tap water into fizzy drinks in seconds.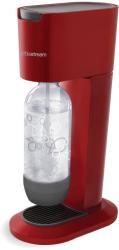 click image to enlarge
We love soft drinks in our family, but boy do they take up a load of space in the pantry and in the boot of the car coming home from the supermarket. Then there's always a difference of opinion on what flavours to buy. The Sodastream puts an end to all that heavy lugging and storage problems and it's good for the environment too - saving our landfill from all those nasty plastic bottles.
It's a really simple device to use. The Sodastream is a neat little unit which holds a gas canister (CO2 cylinder) for producing the bubbles. The unit comes with two 1litre drinks bottles. Simply fill the bottle with tap water and fit place into the screw fitting on the Sodastream. Then pump the button on the top a few times to fizz up the water with CO2. Once fizzed, put a cap full of drinks concentrates into the bottle and Bob's Your Uncle!
Sodastream provide a range of concentrates which come in neat little half litre bottles. So it's easy to have a range of flavours available and make up which one you fancy as and when. We tried the sugar free lemonade, cranberrry and raspberry and sugar free orange. All of them delicious and I would say in many cases better tasting (to us anyway) than supermarket fizzy drinks. There's a wide range of flavours including Cola and Energy Drinks. Many concentrates cost £2.99 and make up to 12 litres. So that's the equivalent of about 50 pence for a 2 litre bottle - comparing well with supermarket own brand prices and less than branded drinks.
The standard Sodstream Unit comes with a 60litre C02 cylinder and a licence for use. When this runs out you can order a refill from their website or from a stockist. To get a refill you exchange your old one for a new one and pay £8.99 for the refill. Or you can buy a spare for £18.99.
There are four different designs of Sodastream. We tested the Sodastream Gensis retailing at £59.99. The starter model, Stream, retails for £49.99 and a beautiful Penguin model for the style conscious sells for £149.99.
More information about products, drinks and the Sodastream system can be found on their website at www.sodastream.co.uk. You can purchase direct from their website, from other popular websites such as Amazon and instore at major retailers including John Lewis, Argos and Comet.